3M™ Cubitron™ II Cloth Belt 723D features 3M Precision Shaped Grain to deliver longer life and a faster, more consistent cut than aluminum oxide belts. The flexible J-weight backing offers optimal flexibility for removing defects and surface imperfections, even on tight contours and complex parts such as medical instruments.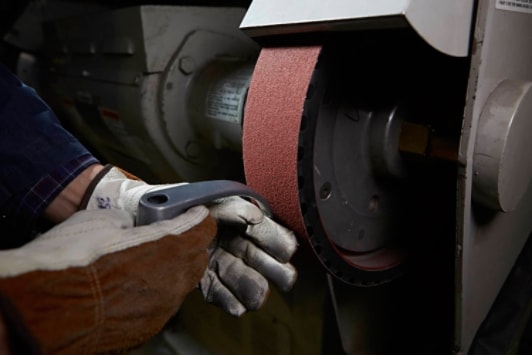 Lasts up to 2x as long as conventional ceramic aluminum oxide belts
The Science of 3M™ Precision Shaped Grain
3M™ Precision Shaped Grain signifies a major advancement in abrasive technology. PSG is a ceramic mineral designed using a proprietary process to enhance toughness and hardness of the grain. 3M scientists then went one step further and precisely engineered the mineral to form uniform triangular shaped grains that continually fracture into super-sharp points and edges that slice through the substrate, rather than gouging or "plowing" like conventional abrasives. PSG creates a super-fast cut and lessens heat build-up in the workpiece, reducing heat-related stress cracks and discoloration. Moreover, because PSG stays cooler and sharper, it lasts longer than conventional abrasives.
For increased performance, 723D belts feature premium aluminum oxide blended with 3M PSG for a sharper, longer-lasting abrasive. This not only delivers more consistent performance, but also provides up to 2x longer life than comparable aluminum oxide belts. Longer life means lower cost per finished part and less time lost to belt changeovers, for greater productivity.
Open Coat Construction
Loading occurs when wood or paint dust clogs the surface of the belt and the abrasive points, rendering the belt ineffective. Open coat construction means the abrasive grains are spaced slightly apart so that dust and debris have an outlet rather than loading the abrasive. Additionally, the open coat feature provides a more aggressive cut than a comparable closed coat abrasive of the same grade. The abrasive is firmly bonded to the backing with resin to maintain durability under high heat and pressure.
Engineered for Reliable Production Performance
For more than 100 years 3M has been a leading abrasive supplier of the metalworking industry. Regardless of your grinding and finishing applications, 3M offers a full line of quality coated and bonded abrasives. 3M engineers designed 3M™ Cubitron™ II Cloth Belt 723D with the flexibility required for finishing complex parts while delivering rapid cut and long-lasting performance. It is an excellent choice when you need a finishing belt that stands up to the demands of production environments.