Microreplicated pyramids wear away to continually expose fresh mineral for a consistent cut throughout the life of the belt
Flexible JE-weight cotton cloth backing flows over contoured surfaces for consistent finishing
Consistency and long abrasive life make this belt great for use in robotic applications
For intermediate finishing and fine polishing prior to plating or buffing
Ideal for light pressure applications, allows abrasive to break down and maintain cut and produce consistent finishes
Produces finer finishes than conventional coated abrasives
Grinding aid helps prevent heat-related warping and discoloration
3M™ Trizact™ Cloth Belt 217EA uses proprietary microreplication technology in which micron-graded aluminum oxide particles are formed into tiny pyramids of abrasive mineral and then coated on a JE-weight rayon backing. As these pyramids wear, fresh, sharp mineral is continually exposed to produce a consistent cut and a predictable, fine finish.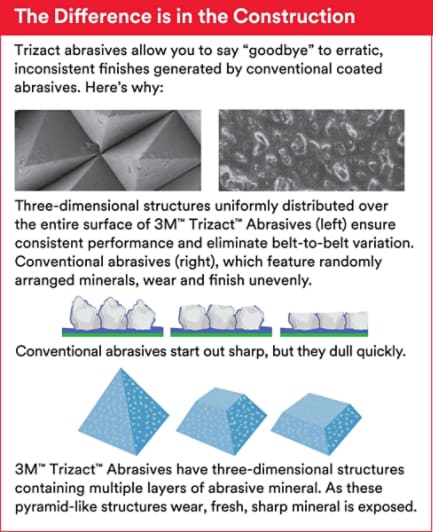 Controlled Breakdown for Consistent Finishing
The abrasive and resin structure for the 3M™ Trizact™ Cloth Belt 217EA is formulated to break down under medium pressure and keep fresh, sharp mineral cutting to provide consistent finishes on hard metals such as carbon and stainless steel. This belt also features a grinding aid that helps prevent heat buildup, warping and discoloration.

The belt is constructed on a JE-weight, durable cloth backing that helps provide control, conformability, and effective medium-pressure grinding. The resin bonded abrasive provides heat resistance and helps prevent delamination.

Ideal for Robotic Finishing and Polishing
Robotic metal polishing demands the most consistent, refined cut and long abrasive life. 3M™ Trizact™ abrasives can consistently deliver near-mirror finishes while also delivering the abrasive life that helps reduce changeouts and downtime in robotic cells. This helps maximize the efficiency of the cell, allowing you to produce more parts per belt.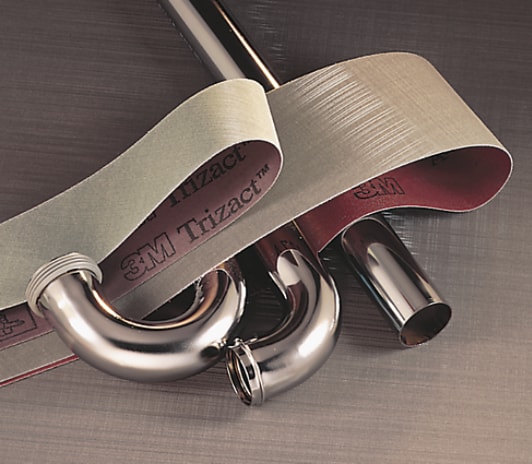 For intermediate finishing and fine polishing prior to plating or buffing
Runs Smooth, Finishes Consistently
A film media splice minimizes "chatter marks" and ensures smooth running and consistent results. When compared to conventional abrasive products, proprietary Trizact™ abrasives produce a finer finish, achieve results faster, and last longer.