3M™ Cubitron™ II Cloth Belt 981F is an abrasive sanding belt for grinding, weld removal, finishing and blending. It is constructed on a tough, Y-weight backing with fast-cutting 3M Precision-Shaped Grain. The water-resistant material and cutting aide allow for use with liquid coolants to prevent loading when used on aluminum, bronze and brass.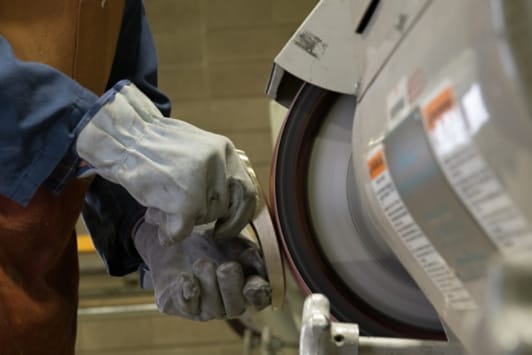 A backstand grinder is used to remove rough surfaces and casting marks from a bronze plumbing fixture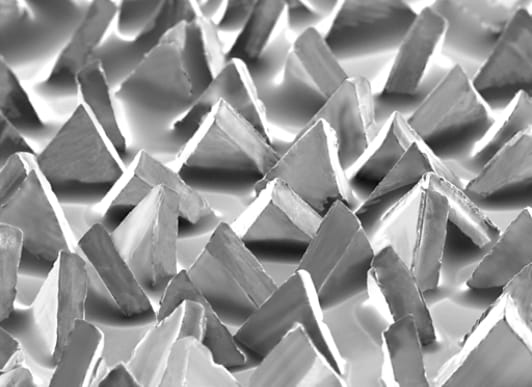 3M Precision-Shaped Grain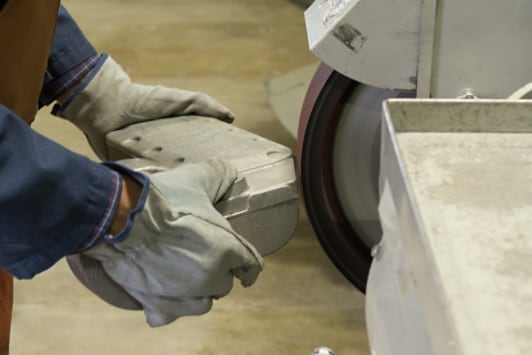 Backstand grinder application on cast aluminum
Solving the Challenges of Soft Metals
3M™ Cubitron™ II Cloth Belt 981F is designed to solve three common problems associated with grinding and finishing aluminum and other soft metals: abrasive loading, edge-shelling and operator fatigue.
To help reduce loading when working with aluminum, bronze and brass, a dry lubricant is integrated into the abrasive and allows the abrasive grain to be relatively free from metal coating them, allowing the cutting surface of the mineral to remain effective. The waterproof backing also enables the user to rinse areas of the workpiece and the cloth during use, in case the abrasive begins to clog.
To help prevent edge-shelling, our 3M™ Cubitron™ II Cloth Belt 981F features a durable, Y-weight polyester cloth backing that stands up to the stresses of working on gates, parting lines and flashing in tight spaces. Plus, unlike other cloth grinding belts, ours features a proprietary resin system to improve mineral adhesion, further reducing the chances of shelling.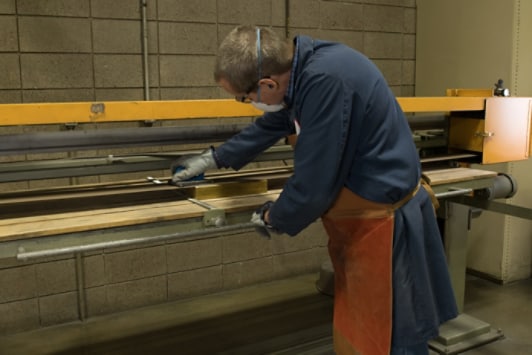 Tough, Y-weight backing is ideal for stroke sanding applications
Worker fatigue can be a concern when grinding softer substrates. 3M™ Cubitron™ II Cloth Belt 981F grinds efficiently, and 3M Precision-Shaped Grain can allow the operator to cut with less pressure, which may help to reduce physical exertion on an operator.
About 3M Precision-Shaped Grain
3M Precision-Shaped Grain is the advanced technology behind our 3M™ Cubitron II™ products. Its sharp, triangular structures continually fracture into sharp points and edges that slice cleanly through the substrate, rather than gouging or plowing as traditional abrasives do. This creates a fast cut and minimizes heat build-up in the workpiece, reducing heat-related defects. Moreover, because the abrasive itself stays cooler and sharper, it lasts significantly longer than conventional abrasive belts, decreasing the number of belt changeovers to lower operational costs. Its closed coat construction features a dense spread of abrasive grains across the surface of the cloth, cutting fast and providing a consistent finish.
Applications and Machine Types
Gate grinding
Flashing removal
Parting line removal
Deburring
Finishing
Backstand grinders
Stroke sanding
Small bench grinders
In-line sanders
File belts
Learn more about how this new belt solves the challenges of grinding softer metals
See more details and technical data
(PDF, 68.4 Kb)