3M™ Cubitron™ II Cloth Belt 784F features 3M Precision-Shaped Grain for longer life and a faster, more consistent cut than conventional ceramic aluminum oxide belts. A precise mix of shaped ceramic and premium aluminum oxide delivers optimal cut in medium-pressure grinding and blending applications. The belt also features a waterproof backing and grinding aid.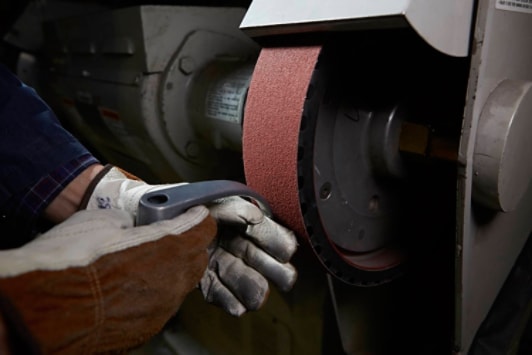 Lasts up to 2x as long as conventional ceramic aluminum oxide belts
Outstanding Performance on Medium Pressure Applications
We engineered our 3M™ Cubitron™ II Cloth Belt 784F with medium pressure industrial applications in mind, using 3M Precision-Shaped Grain, which cuts exceptionally fast and self-sharpens during grinding. This high-performing belt contains a ceramic and aluminum oxide blend that delivers cost-effective performance on medium-pressure applications, where a full ceramic belt may be underutilized.

Coarse grades 36-80 have a YF-weight backing, while finer grades of 120-180 have a lighter XF-weight backing. Both weights are moderately flexible and conform well to slight contours and flat surfaces.

Ideal for Robotic Grinding and Degating
In medium and high-pressure applications like robotic grinding, it's important to choose a premium abrasive belt like the fast-cutting, long-lasting 3M™ Cubitron™ II Cloth Belt 784F. The mineral in the belt continually fractures into sharp edges to keep cutting through the life of the belt, reducing changeouts and downtime in robotic cells. This helps maximize the efficiency of the cell, allowing you to produce more parts per belt.

Run it Wet or Dry
With its water-resistant polyester backing, 3M™ Cubitron™ II Cloth Belt 784F may be run wet or dry. To protect heat sensitive alloys such as stainless steel, titanium, nickel alloys and cobalt alloys from heat-related stress cracks and discoloration, we incorporated a grinding aid to help reduce grinding temperatures. Additionally, the abrasive is firmly bonded to the backing with resin to maintain durability under high heat and pressure.

The Science of 3M Precision-Shaped Grain Blend
3M Precision-Shaped Grain is a major advancement in abrasive technology. This ceramic mineral is designed using a proprietary process to enhance toughness and hardness of the grain. 3M scientists then went one step further and engineered the mineral to form uniform triangular shaped grains that continually fracture into super-sharp points and edges that slice through the substrate, rather than gouging or "plowing" like conventional abrasives. It creates a super-fast cut and lessens heat build-up on the workpiece, reducing heat-related stress cracks and discoloration. Moreover, because 3M Precision-Shaped Grain stays cooler and sharper, it lasts longer than conventional abrasives.

Cloth Belt 784F construction
Engineered for Demanding Industrial Environments
For more than 100 years 3M has been a leading abrasive supplier of the metalworking industry. With a wide combination of minerals, backings and bonds, regardless of your grinding and finishing applications, 3M offers a full line of quality coated and bonded abrasives. The exceptionally fast cut and long life of 3M Precision Shaped Grain makes it ideal for industrial environments. Trust 3M™ Cubitron™ II Cloth Belt 784F to produce immediate, uniform results over the life of the product on all metals, including heat-sensitive alloys.