An ideal tape for attaching weatherstrip and/or gasket seals in automotive applications
Features heat-activated adhesive for primerless bonding to EPDM/TPE materials
Forms immediate, durable bond without adhesion promoters
Viscoelastic acrylic foam core provides excellent wet-out for maintaining seal integrity
Liner side pressure-sensitive adhesive is formulated for rigid clear coat paint systems
3M™ Acrylic Plus Tape ST1200 features our heat-activated adhesive on a 1.2 mm viscoelastic acrylic foam core. This adhesive creates an immediate, durable bond to EPDM/TPE and many Santoprene® TPV materials. Pressure-sensitive adhesive on the liner side is designed for rigid clear coat systems. The conformable foam core provides excellent wet-out for automotive weatherstripping and gasket seals.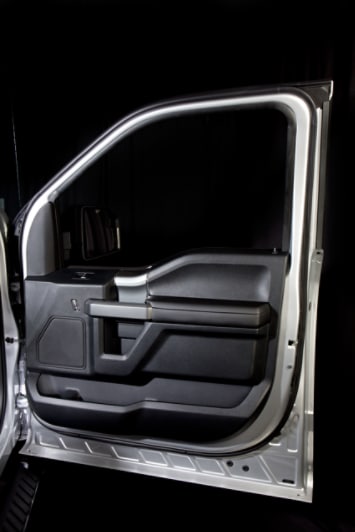 The tape's low-profile bond line and black color deliver exceptional aesthetics and an original equipment appearance
For Durable Attachment of Weatherstripping and Gasket Seals to Rigid Clears
Developed specifically for attaching gasket and weatherstrip seals in automotive applications,
3M™ Acrylic Plus Tape ST1200
(PDF, 200.27 Kb) features our heat-activated adhesive formulated for an immediate, consistent and durable bond to EPDM/TPE materials. This adhesive delivers high initial tack, rapid build and excellent final adhesion without the use of an adhesion promoter, and resists temperatures up to 203°F (95°C) for efficient application prior to seal coating bakes. Adhesive is applied to the non-liner side of a 1.2 mm viscoelastic acrylic foam core, which provides excellent conformability and wet-out that helps maintain seal integrity. The liner side of the core features our pressure-sensitive adhesive for bonding to a range of rigid clear coat auto paint systems. The black color of this OEM approved tape helps create sharp bond-lines. The red, 3M branded liner is silicone-coated on one side, suitable for heat-bond tabbing.
Confidence in Your Purchase
The 3M branded liner
(PDF, 417.5 Kb) features a subtle 3M logo marking to provide evidence to the customer that they are receiving the 3M quality they expect from their purchase. The liner makes our tapes easy to identify and difficult to imitate. This proprietary branding technology is designed to help identification of 3M™ Acrylic Foam Tape.
Recommended Applications
Weatherstripping seals
Gasket seals
EPDM and PP materials
Santoprene® TPV (with appropriate testing and verification)
Santoprene is a trademark of Exxon Mobil Corporation.
Better Science for Better Adhesion from 3M
Since 1925 when one of our lab assistants invented masking tape, 3M has been applying science to life —developing adhesive products and technologies that help entire industries and individual businesses worldwide. The work that began with a single 3M engineer now spans decades and generations - and all of it goes into each of our products developed for automotive OEM, like 3M™ Acrylic Plus Tape ST1200 to help businesses like yours operate faster, better and more efficiently.