Versatile brush deburrs and finishes in one step
High-performance alternative to conventional wire brushes
Thick open web enhances abrasive toughness and durability
Open web resists loading, prolonging abrasive service life and contributing to a consistent cut
Scotch-Brite™ Premium Blend and Finish Flap Brush has all the benefits operators have come to expect from our Scotch Brite™ products, but its heightened ability to cut aggressively sets this abrasive flap brush apart. It is even more durable than High Strength Scotch Brite™ products.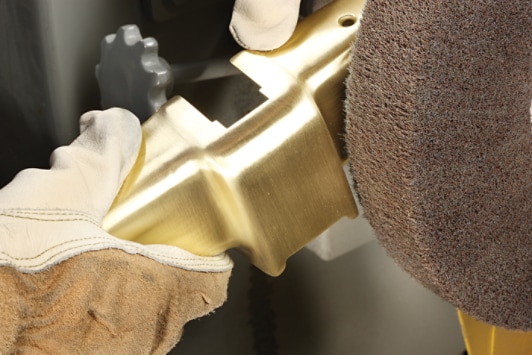 Antique finishes on hardware and plumbing fixtures
Aggressive Cut, Even Finish
Commonly used for aggressive finishing and mild cleaning and deburring, our Scotch-Brite™ Premium Blend and Finish Flap Brush cuts aggressively, but leaves an even, consistent finish in its wake. It produces fine finishes on tools like saw blades, as well as deburrs and finishes on parts like surgical tools and medical equipment trays. This flap brush enhances productivity by enabling operators to deburr and finish in one step.

Available in Type L (Lofty) versions allowing maximum conformability and consistency
The Anatomy of Flap Brushes
We engineer the Scotch-Brite™ Premium Blend and Finish Flap Brush by adhering individual sheets of abrasive material to a steel or fiberglass core at a 90 degree angle. Steel cores are 5.75" in diameter and the red cores are designed to fit flat finishing machines. Scotch-Brite™ Premium Blend and Finish Flap Brush is also categorized as "Type L." The thickness of Type L is approximately 4x thicker than regular Clean and Finish web, which enhances abrasive durability.
Maximum Operating Speeds (RPM)
Wheel Diameter
6"
8"
10"
12"
14"
16"
Cut & Polish Flap Brush
4000
4000
3200
2700
2000
1900
Finishing Flap Brush
3400
3200
2500
2500
2000
1500
High Strength Flap Brush
3400
3200
2500
2500
2000
1500
Combi Flap Brush
3400
3200
2500
2500
2000
1500
Mineral Type
Brush Color
Grade
Brown
CRS
Brown
CRS Type L
Aluminum Oxide
Gold
MED
Gold
MED Type L
Maroon
VFN
Diameter
(inches)
Center Hole
(inches)
Width
(inches)
Density
(inches)
4 - 16
2, 3, 5, 8, 10
1/2 - 24
3, 5, 7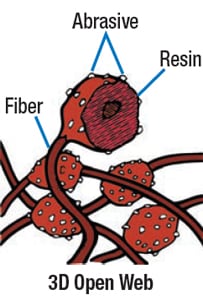 The Many Advantages of Scotch-Brite™ Abrasives
Nonwoven technology makes our Scotch-Brite™ industrial abrasives unique. A combination of fiber strands, resin, and abrasive mineral forms a thick, open web. The spring-like nature of the fibers responds to contours and effectively removes unwanted burrs, soils, and contaminants while maintaining the geometry of the workpiece, which in turn reduces rework and boosts productivity.

Gaps in the web allow swarf to escape, so debris does not clog the mineral. Fibers in the web continually break down with use to reveal fresh mineral for exceptional consistency and long service life. Scotch-Brite™ products may enhance productivity while reducing the need for cleaning chemicals and wire brushes. Scotch-Brite abrasives work fast and deliver consistent results, part after part.