Scotch-Brite™ Premium Finishing Flap Brush stands out among its portfolio of brushes for light deburring, cleaning and creating aesthetic finishes on metals. Constructed from sections of non-woven material slit lengthwise and bonded at a 90 degree angle to a cylindrical core, these abrasive brushes are ideal for applications in which finish is paramount.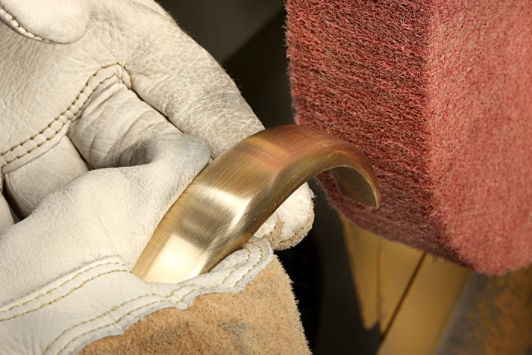 Benefits of Brush Media
A versatile, high-performance alternative to bristle brushes, the Scotch-Brite™ Premium Finishing Flap Brush supports critical metal prep and finishing operations efficiently and effectively. This flap brush requires no compounds or coolant to achieve fine finishes. Inherently less technique dependent than buffing compound processes, a flap brush provides more contact with the work surface, achieving finishes with fewer steps and more consistent results. Moreover, because it's constructed of non-woven material rather than wire or fiber bristles, it poses no danger to the operator from flying wire fragment during use. The flexibility of the flap brush enables access to hard-to-reach surface areas and can reach into surface irregularities that flat belts, for instance, miss.
Variety of Configurations
This brush is available in softer (5) density aluminum oxide mineral in medium and very fine grades and silicon carbide in medium grades. In harder (7) densities, the brush is produced with aluminum oxide available in very fine and medium grades and with medium grade silicon carbide.
Premium for Aesthetic Finishes
Among the best for achieving aesthetic finishes in the metal fabrication industries, this brush is well suited for generating #4 finishes on stainless steel sheet. It is used effectively in flat finishing, automotive trim, machine parts, metal fabrication parts and decorative finishes.
Metal fabrication processes can seriously mar the mill finish of stainless steel and other metals. This flap brush can be used for light deburring applications following punching, stamping, fine blanking, shearing, and laser and waterjet cutting. Scotch-Brite™ Flap Brushes are a fast and easy way to bring that finish "right back to where you started."
Nonwoven Technology Developed at 3M
Nonwoven technology makes Scotch-Brite™ industrial abrasives unique. A combination of fiber strands, resin, and abrasive mineral forms a thick, open web. The spring-like nature of the fibers responds to contours and effectively removes unwanted burrs, soils, and contaminants while maintaining the geometry of the work surface, which in turn reduces rework and boosts productivity.
Open spaces in the web allow swarf to escape, so debris does not clog the mineral. As the fibers of the web break down with use, fresh mineral continues to be exposed. Consistently fresh cutting mineral helps to provide exceptional consistency, cut performance, and long service life.
From aesthetic finishing to weld blending, deburring, and more, Scotch-Brite abrasives are designed to work fast and deliver consistent results, part after part.