Aluminum Oxide mineral cuts sharp but leaves a soft scratch pattern, good for cleaning and finishing
Available in a range of grades, densities and sizes so operators can tailor the brush to meet the needs of their unique application
Especially dense web contributes to abrasive longevity and durability
Open web is buoyant and responsive, minimizing alteration of the workpiece
Open web has gaps between fibers, helping reduce loading and clogging of fibers
Our Scotch-Brite™ High Strength Flap Brush is uniquely designed for lighter duty and specialty applications, such as cleaning and finishing.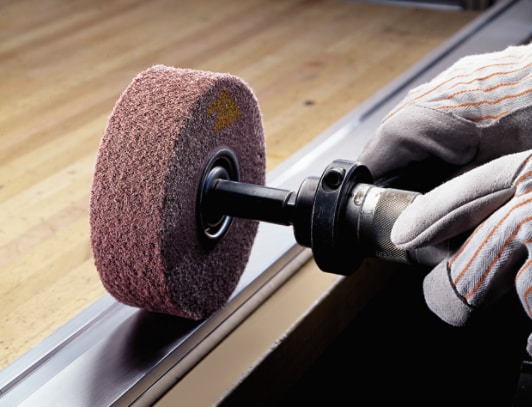 Durable construction when you need aggressive blending and finishing
Anatomy of Flap Brushes
We engineer the Scotch-Brite™ High Strength Flap Brush by taking sections of non-woven material, slit lengthwise, and bonding it to a cylindrical fiberglass core. Among our Scotch-Brite™ Flap and Cleaning Brushes, the High Strength Flap Brush provides a low to medium aggressive cut but has more durable open web.

As operators know well, many factors go into pairing the right abrasive with a workpiece. Our Scotch-Brite™ High Strength Flap Brush is good for light-duty cleaning and finishing applications, because it is long-lasting and withstands repeated wear. Yet, it is not so aggressive that it will gouge the workpiece. Instead, aluminum oxide mineral cuts softly and leaves a fine scratch pattern.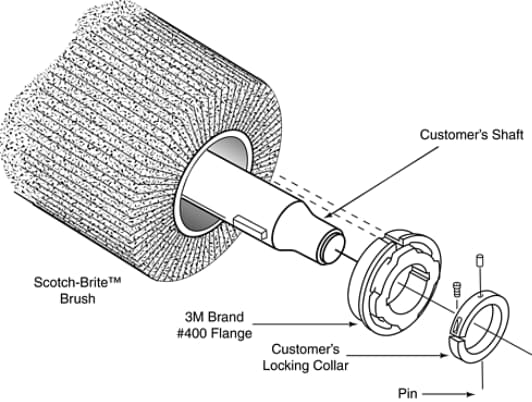 Overall, flap brushes minimize the risk for chatter and marks given their unique construction. Under normal use, flaps rotate centrifugally and make continuous contact with the workpiece. By lapping the surface, the flaps eliminate the residual traces or marks that tend to be left by singular discs or discs ganged on a shaft. The brush may be used with a variety of tools, including a backstand, match and finish sander and a centerless grinder.

Operators will get the consistency and responsiveness they've come to expect from Scotch-Brite™ abrasives, but each brush offers unique capabilities based on different grade and density combinations. Our High Strength Flap Brush is available in a range of grades, densities and sizes (PDF, 2.7 Mb) — so operators can choose the right brush for their specific application.

Maximum Operating Speeds (RPM)
| | | | | |
| --- | --- | --- | --- | --- |
| Diameter | CP-FB | CF-FB | HS-FB | CB-FB |
| 6" | 4,000 | 3,400 | 3,400 | 3,400 |
| 8" | 4,000 | 3,200 | 3,200 | 3,200 |
| 10" | 3,200 | 2,500 | 2,500 | 2,500 |
| 12" | 2,700 | 2,500 | 2,500 | 2,500 |
| 14" | 2,000 | 2,000 | 2,000 | 2,000 |
| 16" | 1,900 | 1,500 | 1,500 | 1,500 |
Scotch-Brite™ Brush Aggressiveness
Scotch-Brite™ Brush Durability
Most
Cut and Polish
Most
High Strength
Combi

High Strength

Cut and Polish

Combi

Least
Finishing
Least
Finishing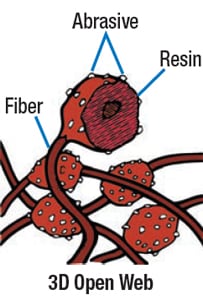 The Many Benefits of Open Web Abrasives
Non-woven technology makes our Scotch-Brite™ industrial abrasives unique. A combination of fiber strands, resin, and abrasive mineral forms a thick, open web. The spring-like nature of the fibers responds to contours and effectively removes unwanted burrs, soils, and contaminants while maintaining the geometry of the workpiece, which in turn reduces rework and boosts productivity. Gaps in the web allow swarf to escape, so debris does not clog the mineral.

Fibers in the web continually break down with use to reveal fresh mineral for exceptional consistency, superior cut performance and extremely long service life. Scotch-Brite™ products not only enhance productivity, but also increase operator safety by reducing the need for cleaning chemicals and pastes, and replacing wire brushes that can break off and cause injury. From aesthetic finishing to weld blending, deburring, and more, Scotch-Brite abrasives work fast and deliver consistent results, part after part.