Abrasive mineral adhered to non-woven web are ideal for cleaning, blending, finishing, and light coating and corrosion removal
Can be used with polishing compounds to create a gloss finish on wood
Conformable pad gets into corners and over contoured surfaces to produce a uniform finish
Can be folded, stacked, or rolled for effective cleaning or conditioning on flat, irregular, or contoured surfaces
Open web construction resists loading and rinses clean for repeated use
Scotch-Brite™ Clean and Finish Sheet uses a conformable non-woven web and a variety of mineral types to blend, clean, and finish. It also works well for contour finishing and lacquer finishing and polishing. The sheet is flexible, making it effective for getting into hard-to-reach areas to produce a uniform finish.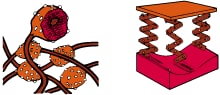 3D Open Web Spring Action
Non-woven, Open-web Resists Loading
Applications where our Scotch-Brite™ Clean and Finish multi-use sheets are useful include cabinetry, custom woodworking and millwork, furniture, metal fabrication, primary wood and panel processing. Washable and reusable, this non-woven, open-web sheet resists loading to continuously provide consistent conditioning properties throughout the life of the product. Convenient 6 x 9 inch sheet may be used by hand for precise control, with a hand pad block for uniform finishing, or on an in-line sander for large area coverage.
Sharp Abrasive for Low Pressure
Scotch-Brite™ Clean and Finish Sheets are available with silicon carbide, aluminum oxide, or talc abrasive mineral. Silicon carbide is a synthetic mineral that is very sharp and commonly used for low-pressure applications such as paint prep and finishing. Aluminum oxide is a hard, blocky mineral that provides high cut-rate and long life. While silicon carbide breaks down faster than aluminum oxide, it produces a finer finish. Talc is a mild abrasive that can be used achieve a satin finish or with polish to create a high gloss finish in topcoat rubbing applications.
The Scotch-Brite™ Advantage
Our Scotch-Brite™ abrasives are unique surface conditioning products with abrasives incorporated into non-woven fiber matrix. Combining abrasives and non-woven material creates an abrasive system that delivers consistent results for the life of the product. The open-web material runs cool and is load resistant, which keeps the abrasive minerals cutting at high performance by limiting clogging of the fibers.