Built with a low-stretch backing, 3M™ Flexible Diamond Belt 6456J excels at grinding and finishing hard-to-grind materials such as thermal sprays, carbides, ceramics, chilled iron, non-ferrous and more. Metal bonding of the diamond grain to the cloth backing ensures durability, and multiple open dot patterns deliver a range of capabilities from stock removal to finer surface finishing.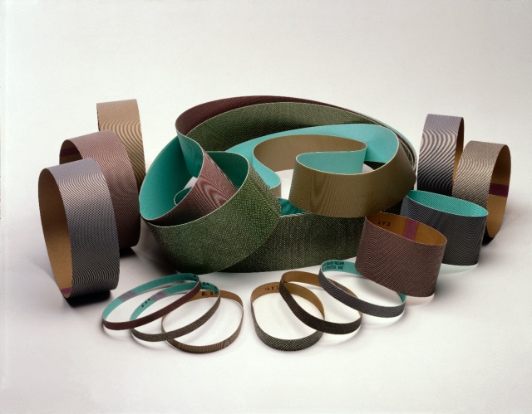 3M™ Flexible Diamond belts, discs and sheets are designed to help you achieve improved finishes on a wide range of hard-to-grind materials – without sacrificing cut rates
Designed Grinding and Superfinishing
Combining the strength of a diamond mineral and a durable, water-resistant cloth backing, our 3M™ Flexible Diamond Belt 6456J is built for processes requiring precision and excellent dimensional tolerance, such as centerless grinding and superfinishing. It features a very close to zero caliper splice, for centerless finishing where uniform belt thickness is essential, to avoid splice bumping.
This diamond abrasive excels at finishing on hard-to-grind surfaces including stone, glass, ceramic, metal, carbides and composites.
Built Tough, Finishes Fine
We adhere the diamond abrasive on 3M™ Flexible Diamond Belt 6456J using a metal bond. Compared to resin or vitrified bonds, metal bonds tend to be the most tough, and enhances the durability of the belt. These characteristics are combined with a low stretch water –resistant cloth backing to create a product well suited for both centerless grinding and Superfinishing.
Open Dot Pattern: What Does it Mean?
The open dot pattern on each 3M™ Flexible Diamond abrasive product means that the diamond mineral particles are adhered to the backing in a series of small dots. This is designed to provide aggressive cutting action while also allowing consistent space for evacuation of stock particles during use, helping reduce loading and prolonging the life of the abrasive surface without sacrificing cut rates.
3M™ Flexible Diamond Belt 6456J is available in three open dot patterns for a range of uses. Pattern 18 is a small dot pattern equating to 25 pellets per inch Our B2 Pattern has medium dots with 17 pellets per inch, and is designed to deliver an aggressive cutting action with improved coolant flow and increased swarf removal. Pattern 21 is offered for grades 250µ and 300µ only. It utilizes larger dots to assist in applications where high stock removal is required and loading is an issue. Generally, the smaller dot patterns will be the least aggressive and produce finer finishes, whereas the larger dot patterns will be more aggressive for stock removal.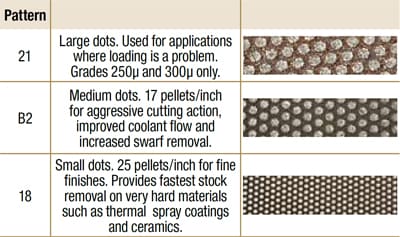 Better Science for Better Sanding from 3M
Part of the 3M portfolio of Superabrasives, the 3M™ Flexible Diamond Belt 6456J is an outstanding example of how 3M applies science to the lives of professionals in a range of industries where excellent grinding and finishing are critical. From its hard diamond mineral abrasive to its durable cloth backing, it is built by 3M to help businesses like yours operate faster, better and more efficiently.
Learn More About 3M™ Flexible Diamond and More Superabrasives.
(PDF, 1.95 Mb)