Metal bond secures diamond particles for long-lasting performance
Premium low-stretch backing supports various grinding applications
Works well on a variety of materials: stone, glass, ceramic, metal carbide and composites
Open dot pattern allows swarf and debris to escape, helping to prevent loading
Available in three dot patterns, so operators can choose the right abrasive for their unique project needs
3M™ Flexible Diamond Type C Belt 6450J features micron-graded diamond mineral. A metal bond securely anchors diamond particles to a premium backing in an open dot pattern. This provides durability and long life. In addition, the open dot pattern produces aggressive cutting action while reducing loading.
3M Flexible Diamond Abrasive Configurations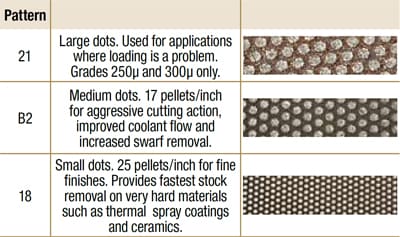 Built Tough, Finishes Fine
We adhere diamond mineral on our 3M™ Flexible Diamond Type C Belt 6450J with a metal bond. Compared to resin or vitrified bonds, metal bonds tend to be the most tough.

The open dot pattern of our diamond mineral, produces aggressive cutting action, and reduces loading. Designed for use on a variety of hard-to-grind materials.

3M™ Flexible Diamond Belts achieve better finishes without sacrificing cut rates on hard to grind roll materials.
3M Flexible Diamond Belts and Rolls
| | | |
| --- | --- | --- |
| 3M ID | Backing Type | Description |
| 6003J | VF | Very flexible backing; available in rolls only. |
| 6450J | C | More flexible than Type G. Best construction for short belts. Suitable for slack belt operations, such as glass seaming, hot roll finishing. Weldlok splice. |
| 6451J | G | Low stretch, for use with contact wheels. Suitable for roll grinding. Use for roll finishing when closer caliper splice is required. Weldlok splice. |
| 6454J | V2S | Most flexible backing. Used for lighter duty applications, such as blending and finishing contours. |
| 6456J | YFB | Least amount of stretch of all backings. Excellent water resistance. Very close to zero caliper splice, for centerless finishing where caliper control is important. Use in roll form for superfinishing. |
| 6457J | VF | Very flexible backing with moderate stretch. Ideal for use on contoured surfaces. Weldlok splice. |
Recommended Applications
This belt is ideal for roll grinding and other wet grinding and finishing applications where the abrasive is supported by a contact wheel or platen — especially for use on rolls harder than 55-60 Rockwell C such as chilled iron, forged steel, thermal sprays or ceramics.

Suitable for slack of belt operations, such as glass seaming and hot roll finishing.

Especially designed for use on rolls harder than 55-60 Rockwell C such as chilled iron, forged steel, thermal sprays or ceramics.

Learn more about Superabrasive products (PDF, 2 Mb)