3M™ Die-Cuttable Tape DC2008S2 securely attaches nameplates, badges and emblems to the exterior of vehicles. Our tape is a 0.8 mm (0.030 in) thick, black foam tape with a white, polyethylene liner that has been silicone treated on both sides for easy one-piece release and efficient tape application.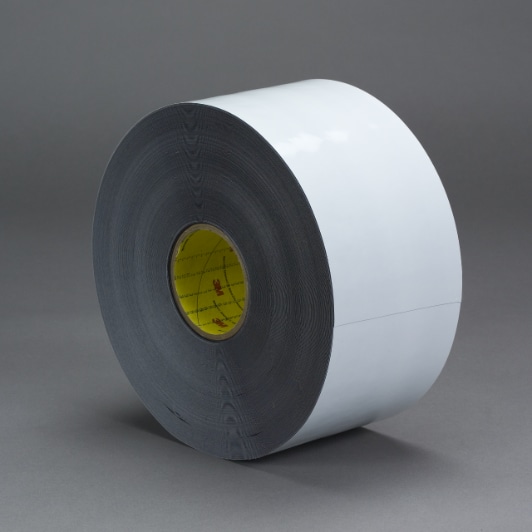 Tape has a firm core that resists twisting forces
A Specialty Tape for Applying Nameplates, Badges and More
When attaching nameplates, badges and emblems to the exterior of vehicles, 3M™ Die-Cuttable Tape DC2008S2 delivers convenience and reliability to boost productivity. Relying on decades of experience in formulating adhesives, 3M developed an advanced adhesive that offers high initial and lasting adhesion on new scratch- and mar-resistant paint technologies. Our tape will adhere reliably on both chrome and paint. High initial adhesion makes the job of affixing exterior attachments easier for automotive technicians.
See more about Improved Solution for Badge and Emblem Attachments
(PDF, 1.3 Mb)
Best of Both Worlds: Ease of Handing with Improved Quality
The unique handling properties of our 3M™ Die-Cuttable Tape DC2008S2 enable minimal edge-welding, which helps improve the die cutting process — even with intricate letters. With the trend toward narrow width letters and individual lettered badges, our tape excels for this purpose because of its high twist resistance. When using our tape, there is a reduced chance for missing letters. The black color of the tape is inconspicuous so that is doesn't distract from the appearance of the vehicle.
Advantages of Using Pressure Sensitive Tape
Using our tape offers numerous benefits over other adhesive products. Automotive technicians appreciate 3M™ Die-Cuttable Tape DC2008S2 for these reasons:
Uniform thickness throughout the bondline
Confinement of the adhesive to the immediate bonding area
Clean bonding without dripping or overflow
Minimum adhesive waste
Ability to die-cut into complex shapes to bond complex shapes or parts with narrow bonding surfaces
From Our 3M™ Die-Cuttable Tape DC2000 Series
3M™ Die-Cuttable Tape DC2008S2 is part of our series of tapes that represent the latest in exterior attachment tape technology. Advantages for automotive manufacturers are the potential for fewer warranty claims related to nameplates, badges and emblems falling off, reduced in-plant rework and overall brand image among car buyers. Our tape features an improved adhesive formula designed for new automotive paint systems, such as powder coats and nanoparticle-based clear coats.
Learn more about the 3M™ Die-Cuttable Tape DC2000 Series
(PDF, 196 Kb)