Improved version of 3M low odor acrylic adhesive
Low temperature performance with structural strength down to -40°C (-40°F)
Excellent impact and peel strength
70% elongation that provides enhanced flexibility for dissimilar material bonding
Non-flammable classification and low odor formulation
Bonds a variety of substrates with minimal surface preparation, including slightly oily surfaces
Bonds well to plastics, composites, painted surfaces, aluminum, stainless steel and active metals
23 minute work life; 25 minute time to handling strength
Contains 250 micron (0.010 inch) spacer beads to control bond line thickness
No GHS08 Health Hazard classification
3M™ Scotch-Weld™ Low Odor Acrylic Adhesive DP8725NS is a black, non-sag, low odor, two-part structural acrylic adhesive with non-flammable classification. 8725 is an improved version of 3M's low odor acrylic adhesives, providing enhanced impact strength, peel resistance, flexibility, low temperature performance and enhanced workplace safety. It has a 23 minute work life with 25 minute time to handling strength.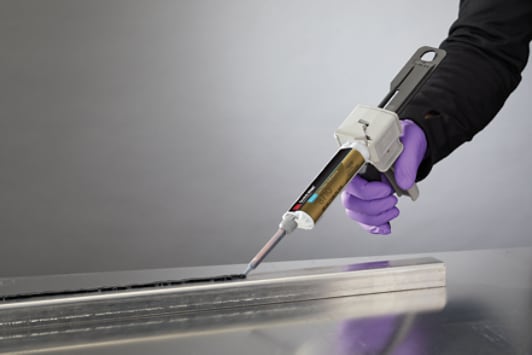 3M™ Scotch-Weld™ Low Odor Acrylic Adhesive DP8725NS is a fast-curing low odor adhesive that bonds well to many substrates
Recommended Applications
Metalworking such as specialty vehicles, rail, appliances, HVAC, architectural panels and sporting goods
Bonding plastics, composites and powder coats to metals
Applications where cold temperature performance is essential
When using a Duo-Pak (DP) size adhesive, rely on 3M dispensing equipment for convenient and accurate metering, mixing and dispensing.
Easy Adhesion with Acrylic
Acrylic adhesives are two-part adhesives that provide excellent bond strength and durability. Acrylic glues have several features that make them easier to use, including a much faster cure speed, higher tolerance for oily or unprepared bonding surfaces and the ability to bond a wide variety of materials, including nearly all plastics. Newer acrylic adhesive formulations are room temperature stable with a long shelf life.
Bringing Better Ideas to the Surface Through Science and Innovation
The 3M Industrial Adhesives and Tapes Division applies the science of adhesion to deliver innovative solutions that improve the design and manufacturing processes of companies around the world. In the end, these technologies help customers deliver competitive products to the market faster and more efficiently.