Scotch-Brite™ SST Unitized Wheels offer the same advantages as the SST convolute wheels. Softer and more conformable than many other higher density wheels, the SST is ideal for deburring and finishing demanding alloys like stainless steel and titanium. Unitized wheels can be made in much smaller diameters and widths than convolute wheels for more precise applications.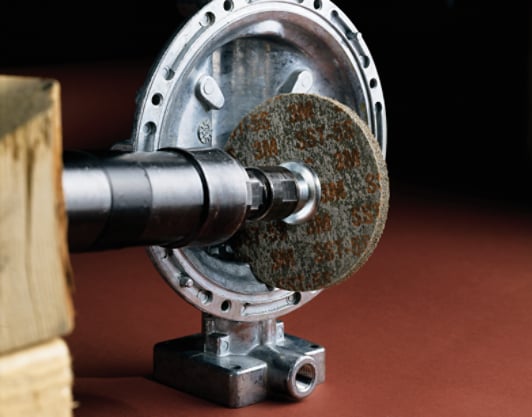 Precise Deburring Even on Challenging Materials
Designed for deburring stainless steel, titanium and other demanding alloys, Scotch-Brite™ SST Unitized Wheels provide uniform and repeatable results in applications requiring narrow widths and/or smaller diameters. Burrs left behind from machining operations like drilling, stamping and punching are easily removed from hard to reach areas, intricate geometries, precision edges and surfaces and high value materials.
Our Scotch-Brite™ SST Unitized Wheels are used extensively in the aerospace industry to deburr and finish aircraft engine components, to finish parts used in medical devices and surgical instruments and for mold and die polishing.
Built for Versatility
Available in three densities with silicon carbide or aluminum oxide abrasive mineral, this unitized version of the SST wheel runs well on bench motors, floor lathes, portable power tools and other smaller equipment.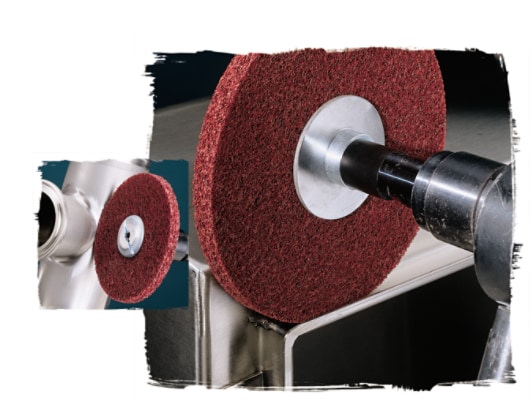 The Scotch-Brite™ Advantage
Scotch-Brite™ uses proprietary technology to bind synthetic fibers and abrasive particles to create an abrasive system that delivers consistent results for the life of the product. The open web construction continually exposes fresh abrasive to the work surface, for a consistent finish.