3M™ Paper Belt 366UZ is constructed with 3M's premium aluminum oxide mineral in closed coat format. It is an anti-static product that resists loading, and is coated on a heavy F-weight paper backing to efficiently sand and finish flat surfaces in woodworking applications.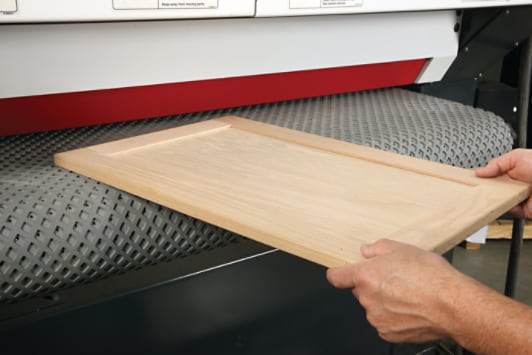 Excellent, long-lasting paper belt
F-weight is one of the heaviest, most rigid paper backings available and will help you achieve finer finishes than cloth backed belts in the same grade. The paper backing provides smooth operation and durability. The abrasive side features a closed coat structure that provides greater grain density to achieve finer finishes than open coat belts.
This belt also features our 3M dust management technology that reduces static in the dust particles, allowing them to be pulled away more easily when coupled with an efficient dust collection system. The belt ends are joined using a film media splice; a strong secure bond consisting of a thin film-joining media that also minimizes chatter marks and ensures a smooth running belt in either direction for consistent finishing results.
Our 3M™ Paper Belt 366UZ features a premium aluminum oxide abrasive, which is a popular choice among industrial professionals because of its cut-rate and long life. This mineral is a tough, durable abrasive that self-fractures to expose fresh cutting edges in use, whereas traditional abrasives, such as garnet, quickly wear down with use. Due to its high cut-rate, hardness, strength, and low heat retention, aluminum oxide mineral is widely used for sanding and finishing applications. Aluminum oxide is suitable on a wide variety of substrates in both woodworking and metalworking, including ferrous alloys.
Abrasive belts come in many different widths and lengths and are used on a variety of different belt sanders for many different applications on both wood and metal. At 3M we offer a broad selection of belts to fit most any industrial belt sander. Wider belts are used to dimension and sand large wood panels, smooth rough cut edges of metal sheets, or add a grain pattern to stainless steel sheets and medium-width belts fit onto edge or portable belt sanders for sanding or blending wood pieces such as cabinet doors.