3M™ Microfinishing Film Belt 272L was designed to deliver close tolerance precision finishes on a versatile range of substrates – from gelcoat and soft rubber to fiberglass and metals.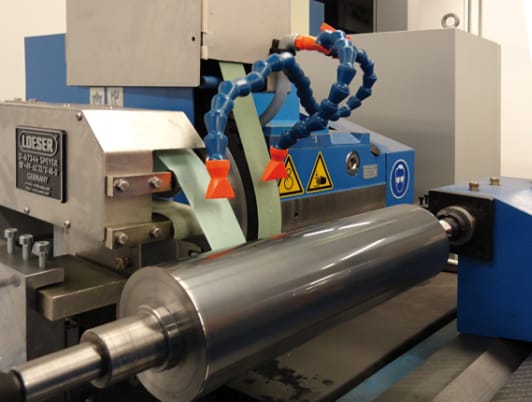 The 5-mil polyester film backing offers stretch resistance, high unit pressure on the material, compatibility with most coolants and suitability for a wide variety of wet and dry applications.
Aluminum Oxide Mineral
We design 3M™ Microfinishing Film Belt 272L by anchoring aluminum oxide mineral to a polyester film backing with resin. This belt is uniquely suited to help with sheet polishing, finishing, and flat finishing.
We chose aluminum oxide mineral for this abrasive belt, as it is a popular choice among industrial professionals who favor the fast cut rate and long life. Aluminum oxide's hardness, strength and low heat retention help the belt withstand the repeated wear that grinding and finishing often demand.
Features a Water-Resistant Polyester Backing
The polyester film backing on 3M™ Microfinishing Film Belt 272L is water resistant, so the belt can be run wet or dry. By applying a lubricant, like water, as the abrasive runs, operators may be able to wash away swarf and debris that tend to clog the abrasive or warp and discolor the substrate. The resin bond that fastens aluminum oxide to the backing helps the abrasive stay cool, because it breaks down gradually as the belt rotates.
Available in a Range of Grades
Given that it's available in a versatile range of grades — from 9 to 100 micron — operators can select the right grade of 3M™ Microfinishing Film Belt 272L for their unique application. Higher grades, like 100 micron, are good for higher removal processes, while lower grades, like 9, are good for final, fine finishes.
Altogether, this film-backed belt enables you to quickly d achieve desired Ra (roughness average) and other surface finish parameters. These are some of the reasons why this belt is used across industries — from metalworking to woodworking.