Micron-graded aluminum oxide abrasive cuts fast and provides a consistent, fine finish
Durable polyester film backing provides flexibility for consistent finishing
Resin bonding resists deterioration from heat, extending the life of the abrasive belt
Closed-coat construction provides good grain density and helps deliver a finer finish
Our 3M™ Microfinishing Film Belt 372L is designed to help you get the finest finish possible, and is available in a wide variety of forms. It features micron-graded aluminum oxide abrasive bonded to a durable polyester film backing to produce a fast cut-rate and uniform finish on composites, plastic, fiberglass and metal.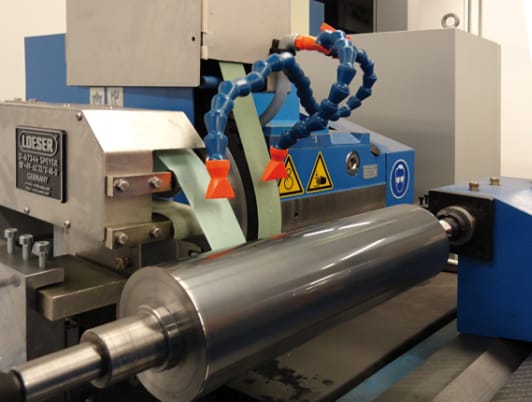 The 5-mil polyester film backing offers stretch resistance, high unit pressure on the material, compatibility with most coolants and suitability for a wide variety of wet and dry applications.
Flexible Design
3M™ Microfinishing Film Belt 372L is manufactured with a closed coat abrasive surface to increase efficiency and produce a finer finish. To complement the effective abrasive action, the polyester film backing flexes to help achieve a consistent finish over contours and offers greater tear-resistance than comparable paper products, making it ideal for high-production environments. This film comes in a range of micron grades for complete multi-step sanding and finishing.
Aluminum Oxide Abrasive
The 3M™ Microfinishing Film Belt 372L features precision, micron-graded aluminum oxide, which is a popular choice among industrial professionals because of its fast cut-rate and fine finish. This mineral makes a tough, durable abrasive that self-fractures to expose fresh cutting edges. Due to its fast cut-rate, hardness, and strength, it is widely used for sanding and finishing applications.
Heat Resistant with Closed Construction
The 372L belt uses a resin bonding which is specially designed to resist thermal and chemical deterioration, which can occur during sanding. This bond is very tough and excellent for precision work on hard and soft surfaces. This also allows for faster sanding and a higher cut rate. The closed-coat construction of the belt means mineral grains cover 100% of the backing, so the abrasive scratches all of the surface that it comes in contact with. It's commonly used on surfaces where loading is less of a problem, making it a good match for hard metals.