3M™ Nameplate Repair Tape 06385 makes it easy to attach emblems and nameplates to vehicles with professional looking results. The thin profile of the tape, measuring only .030-inch (.76mm) thick, makes it possible to achieve a flush fit for less noticeable attachment.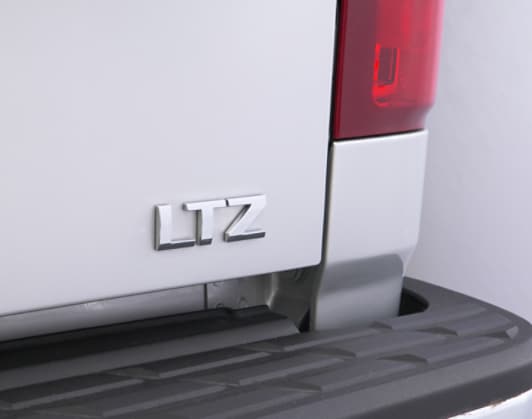 Its gray color blends in for a professional looking repair
Low-Profile Bonding of Emblem to Vehicle
3M™ Nameplate Repair Tape 06385
(PDF, 328 Kb) is one of our thinnest 3M attachment tapes — which enables a flush fit for automotive badges, emblems and nameplates. The highly conformable tape is available in narrow widths, measuring .23-inch (5.99 mm), allowing for fast and easy, low profile repair of intricate emblem parts.
Acrylic Adhesive Delivers Secure Attachment
Adhesive is applied to both sides of the tape to allow for simple pressure sensitive bonding. The sealing properties of the acrylic adhesive provide an excellent barrier to water and road dirt, preventing them from getting underneath the emblem or nameplate where corrosion can occur. The viscoelastic foam core conforms well even to complex geometries. It is engineered for stress relaxation when exposed to high stress loads, and maintains bond-line aesthetics under normal stress loads. This tape delivers high peel performance, shear strength and resistance to plasticizers for reliable attachment.
A red, polyethylene liner is printed with a white 3M logo
(PDF, 148 Kb).
Professional-Grade Appearance
Our tape combines an OEM approved acrylic foam core and adhesive technology to meet professional auto body standards. The dark gray-colored tape blends well with automotive surfaces for a smooth appearance.
Recommended Applications
Badges
Nameplates
Emblems
Note:
3M nameplate repair tape 06385 is not recommended for the repair and replacement of heavier automotive trim such as body side moldings. 3M offers several other tapes more suitable for these specific applications.
Better Science for Better Adhesion from 3M
Since 1925 when one of our lab assistants invented masking tape, 3M has been applying science to life — developing adhesive products and technologies that help entire industries and individual businesses worldwide. The work that began with a single 3M engineer now spans decades and generations — and all of it goes into each of our products developed for automotive OEM, like 3M™ Automotive Attachment Tape 06376.