Firestop tested up to 4 hours in accordance with ASTM E814 (UL 1479) and CAN/ULC-S114
High-solids formula produces limited shrinkage
Continuous seal remains pliable and allows for typical pipe movement
Re-enterable and repairable fire barrier sealant
Offers excellent sealant and caulking properties
Sealant helps minimize noise transfer
3M™ Fire Barrier Water Tight Sealant 3000 WT provides up to 4-hour fire protection in tested and listed systems. It is a gun-grade, intumescent, silicone, elastomeric sealant that cures upon exposure to the atmosphere to form a monolithic flexible firestop seal. Properly installed, this sealant helps control the spread of fire, smoke and noxious gasses before, during and after exposure to fire and exhibits good adhesion to a full range of construction substrates.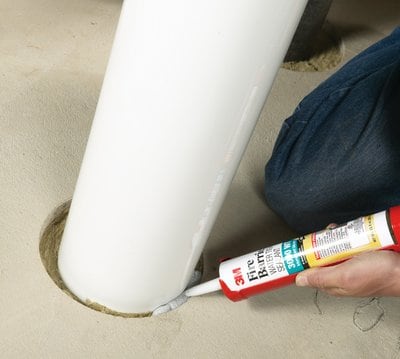 High-performance intumescent silicone achieves the benefits of a firestop and watertight seal
Recommended Applications
Metallic pipes
Non-metallic pipes (e.g. plastic)
Conduit, power and communication cables
Cable trays
Busways
Combos
Insulated pipe
HVAC duct penetrations
Fire Barrier Features
3M™ Fire Barrier Water Tight Sealant 3000 WT acts as an acoustic barrier by minimizing noise transfer (STC-Rating of 53 when tested in a STC 54-rated wall assembly). In addition, the high-solids formula produces limited shrinkage. This halogen-free sealant is sag-resistant and has an excellent caulk rate (applied with conventional caulking equipment). It dries to the touch in 30 — 60 minutes and can be painted. In addition, this sealant has been engineered to be re-enterable and repairable.
Reliable and Affordable Fire Protection
Effective and easy to install, 3M™ Fire Barrier Water Tight Sealant 3000 WT is part of our family of fire protection products that offer the broadest, long-lasting solutions for a variety of commercial, industrial and residential applications. As a trusted leader in the fire protection industry, 3M offers a broad line of affordable products designed to meet the most demanding firestop requirements. Find the solution you need from the industry-preferred
line of fire protection products
(PDF, 5.95 Mb).
3M™ Fire Barrier Water Tight Sealants (W-Rated)
Product Number
Water Tight
Elastomeric
Fire Barrier
Smoke Seal
Sound Barrier
Water Barrier
Description
Size
Color
Unit
Billing UPC Number
Qty.
Price Unit
3000 WT
Yes
Up to 4 Hour Fire Protection
L Rated*
STC 56**
Class 1W***
Intumescent Silicone
(Up to 4-hr Penetration Firestop)
10.1 oz.
Tube
000-51115-16593-1
12/Cs
Each
Intumescent Silicone
(Up to 4-hr Penetration Firestop)
20 oz.
Sausage
000-51115-18788-9
12/Cs
Each
Intumescent Silicone
(Up to 4-hr Penetration Firestop)
4.5 gal.
Pail
500-51115-16594-3
1/Cs
Each
1000 NS
Yes
±31% Movement Capability
Up to 3 Hour Fire Protection
L Rated*
STC 56**
Class 1W***
Non-slump Silicone
(Up to 3-hr Penetration/Joint Firestop)
10.1 oz.
Tube
000-51115-11535-6
12/Cs
Each
Non-slump Silicone
(Up to 3-hr Penetration/Joint Firestop)
20 oz.
Sausage
000-51115-18790-2
12/Cs
Each
Non-slump Silicone
(Up to 3-hr Penetration/Joint Firestop)
4.5 gal.
Pail
500-51115-11537-5
1/Cs
Each
1003 SL
Yes
±31% Movement Capability
Up to 3 Hour Fire Protection
L Rated*
STC 56**
Class 1W***
Self-Leveling Silicone
(Up to 3-hr Penetration/Joint Firestop)
10.1 oz.
Tube
000-51115-11538-7
12/Cs
Each
Self-Leveling Silicone
(Up to 3-hr Penetration/Joint Firestop)
20 oz.
Sausage
000-51115-18789-6
12/Cs
Each
Self-Leveling Silicone
(Up to 3-hr Penetration/Joint Firestop)
4.5 gal.
Pail
500-51115-11540-5
1/Cs
Each
*Meets optional L requirements
**In STC 56-rated wall assembly
***UL water leakage