Durable surface protection film is ideal for use on many surfaces
Virtually clear film defends against stone chips, scratches and paint damage
Perfect for bumper covers, door pull cavities, side mirrors, door edges, trunk ledges and rocker panels
Available in many widths up to 48" to suit various applications
Professionally installed, computer designed kits ensure precise fit
Our 3M™ Surface Protection Film SPF6, 6 mil, Unclear maintains the integrity of automotive finishes on vulnerable exterior surfaces such as fender end caps and rocker panels. This cost-effective polyurethane film comes without a clearcoat, ideal for short-term usage. It is a popular treatment for race cars, where it is repeatedly replaced to refresh outward appearance for optimal aesthetics.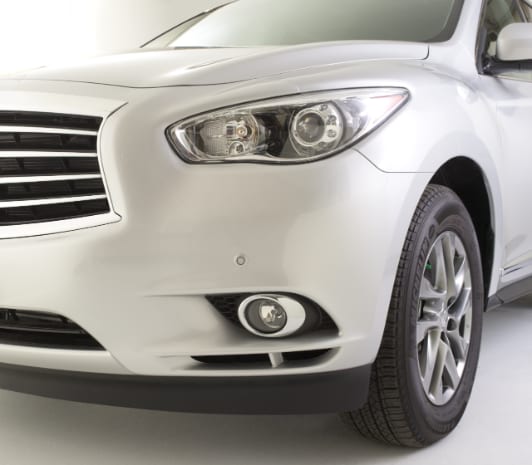 It is weather resistant and it will not fade
Protection from Road Wear
Designed to protect painted and gel-coated surfaces, our 3M™ Surface Protection Film SPF6, 6 mil, Unclear helps defend against stone chips and scratches. The film offers excellent conformability around contours for a seamless application.
Out of Sight Defense
Surface protection film, also known as "clear bra" or "paint protection film", is a cost effective way to protect the showroom quality finish of a vehicle. The tough, durable, virtually invisible urethane film will keep vehicles looking newer longer, without changing the design features or color, by creating a barrier and protecting vulnerable areas such as front bumpers, side mirrors, door handle cavities, door edges, rocker panels and rear fender panels. Preserving the finish of a vehicle with 3M™ Surface Protection Film keeps it looking newer longer, and can enhance the resale value of the vehicle.
Leave it to the Professionals
3M strongly recommends that our surface protection films be installed by a professionally trained installer. These are skilled installers in applying the film around compound curves, challenging grillwork, wheel openings, bumpers and all other areas on vehicles. The film is cut using a computer-designed kit that is model-specific, thereby delivering a precise fit that makes the film almost undetectable. For the trained technician, 3M protection film kits are easy to cut and install.
3M™ Surface Protection Film SPF6 is a 6 mil (152 micron) clear film that features excellent abrasion, puncture and tear resistance, along with heat and moisture resistance. The film offers good elongation and conforms easily to curved surfaces, while its pressure sensitive adhesive backing makes it easy to apply.
Recommended Applications
Door edges
Door handle cavities
Front bumpers
Rear fender panels
Rocker panels
Side mirrors
Trunk ledges
3M Science Delivers Reliable Surface Protection
From headlight restoration to acoustic materials to paint protection films, 3M automotive engineers have invented cutting-edge technologies that enable automotive technicians to deliver the highest levels of customer satisfaction. 3M™ Surface Protection Film SPF6 relies on these advanced technologies to prolong the fresh appearance and integrity of exposed car surfaces. It is an outstanding example of how 3M technologies support automotive industries, providing both ease of use and superior results.