Two-part urethane or two-part epoxy adhesives effectively bond rigid plastic
Commonly used to bond backup strips to SMC and FRP (traditional fiberglass)
Frequently used for backside reinforcement repair on a variety of plastic components
Adhesive offers excellent sag resistance
A range of work times allows for maximum efficiency on specific jobs
3M™ SMC/Fiberglass Repair Adhesives are two-part urethanes or two-part epoxies used to bond backup strips to SMC (sheet molded compound), FRP (traditional fiberglass) and primed metal. Our adhesives provide a full range of hardness, flexibility and worktimes for jobs such as reinforcing the backside of plastic components on vehicles. They use automatic mixing and offer excellent sag resistance.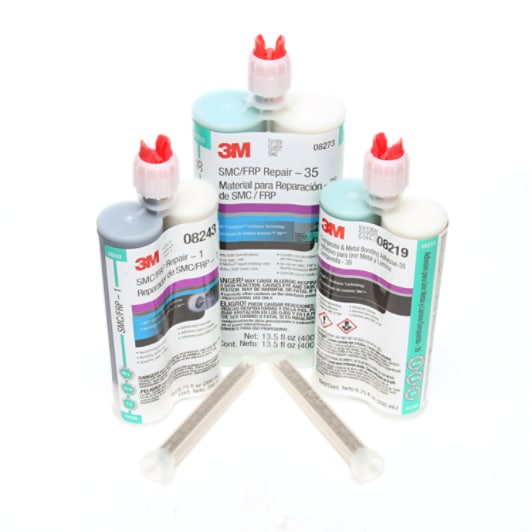 Reliable adhesion needed for bonding rigid plastics
Effectively Bonds Challenging Materials
When the backside of a plastic component is loosening, or a new component is being installed, 3M™ SMC/Fiberglass Repair Adhesives offer the reliable adhesion that you need for bonding rigid plastics. They securely bond pieces with impervious surfaces. Our adhesives are ideal for small repair areas such as grilles and small gouges, as well as bonding headlamp buckets.
A Highly Versatile Product
In addition to bonding components to SMC, FRP and primed metal,
we recommend these adhesives for additional applications
(PDF, 41.71 Kb) including:
Bonding flexible plastics if used in combination with 3M™ Polyolefin Adhesion Promoter, PN 05907.
Under certain conditions, these adhesives may be used as a cosmetic filler. Check with your 3M representative.
Bonding industrial and marine composites.
Easy-to-Use Adhesive
Our selection of adhesives offers a range of work times in 200 mL and 400 mL quantities for maximized efficiency during specific auto repair jobs.