Solid, dense, and conformable wheel produces a professional finish the first time, without undercutting, gouging, or distorting the workpiece
Effective for all types of metals, composites, and glass, allowing one wheel to perform more tasks
Conformability allows abrasive to stay in contact with complex-shaped parts in robotic processing
Convolute construction keeps the wheel running smooth, producing a consistent, superior finish
Unique resin system minimizes smearing, reducing time spent cleaning surfaces
Minimizes heat build up to reduce risk of discoloration and warping on heat-sensitive substrates
Scotch-Brite™ EXL Deburring Wheel features a hard, dense consistency that quickly deburrs, finishes, and polishes all types of metals, composites, glass and leaves a smooth, clean surface. Its conformable characteristic makes the wheel ideal for deburring stamped or laser cut parts, or for finishing after belt sanding.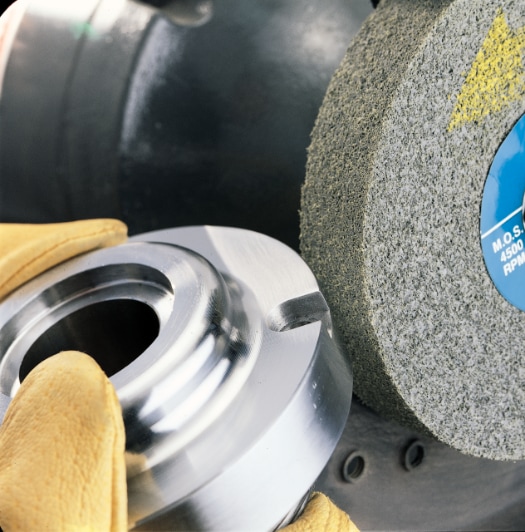 Excellent choice for deburring and polishing
Runs Cool, Minimizes Smearing
Scotch-Brite™ EXL Deburring Wheel creates a clean surface without smearing, reducing the need for additional clean up and preparation. Convolute construction and clean, uniform wear keep the wheel running smoothly and help the operator attain a professional finish while minimizing the pressure required on the workpiece. Our Scotch-Brite™ nonwoven material runs cool and provides the EXL Deburring Wheel with uniform wear and keeps fresh abrasives continuously exposed, making it a superior choice on heat-sensitive substrates. The toughness of the wheel extends its service life.

Ideal for Robotic Deburring
With a wide range of conformability options and high consistency, long-lasting Scotch-Brite™ industrial abrasives are a great option for robotic deburring. Scotch-Brite™ EXL Deburring Wheel quickly removes burrs and sharp edges in end-of-arm tooling operations, delivering consistent performance through the full life of the abrasive.

Available in Your Choice of Mineral
Scotch-Brite™ EXL Deburring Wheel is available with silicon carbide or aluminum oxide abrasive mineral. Silicon carbide is a synthetic mineral that is very sharp and commonly used for low-pressure applications such as paint prep and finishing. Aluminum oxide is a hard, blocky mineral that provides high cut-rate and long life. While silicon carbide breaks down faster than aluminum oxide, it produces a finer finish.
| | | | | | | | | | |
| --- | --- | --- | --- | --- | --- | --- | --- | --- | --- |
| Scotch-Brite™ Abrasive Products | Stainless Steel | Titanium | High Nickel Alloys | Metal Alloys | Plastics | Composites | Cobalt Chrome | Titanium | Zirconium |
| Scotch-Brite™ EXL-XP Deburring Wheel | X | X | X | | | | | | |
| Scotch-Brite™ EXL Deburring Wheel | | | | X | X | X | | | |
| Scotch-Brite™ EXL2 Deburring Wheel | X | X | X | | | | | | |
| Scotch-Brite™ EXL3P Deburring Wheel | X | | | | | | X | X | X |
| Scotch-Brite™ Light Deburring Wheel | X | | X | | X | X | | | |

The Many Benefits of Open Web Abrasives
Scotch-Brite™ offers unique surface conditioning product with abrasives incorporated into nonwoven nylon fibers. Combining abrasives with the fibers creates an abrasive system that delivers consistent results for the life of the product. The open-web material is load resistant and keeps the abrasive minerals cutting at high performance by limiting clogging of the nylon fibers.