Available in black and white stripes for safety and hazard marking
Unique stretch properties enable tape to remain stretched to conform to uneven surfaces without lifting and retracting
One-piece, clean removal from many surfaces which helps reduce clean-up and labor costs
Rubber adhesive provides excellent holding strength on many surfaces
Good solvent resistance for long service life
Quick application of tape eliminates prep work and clean-up processes associated with painting
Solve a variety of challenges, including floor and safety marking, color coding and industrial applications with our durable 3M™ Safety Stripe Vinyl Tape 5700. Designed to resist wear, scrapes and moisture, this long-lasting tape is available in black and white stripes.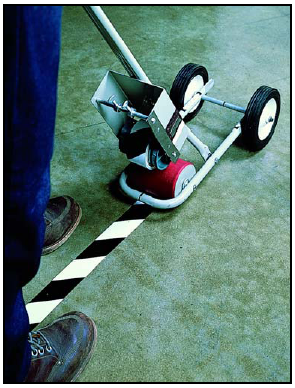 Designed for lane and safety marking
Recommended Applications
3M™ Safety Stripe Vinyl Tape 5700 is designed for a variety of applications in factories, warehouses, hospitals and public areas such as:
Lane and safety marking
Identify hazard areas
Rugged Versatility without the Mess
3M Vinyl tapes are used to clearly mark lanes, corridors and hazardous or "no-go" areas in factories, warehouses, and hospitals. Using our vinyl tape for lane marking is a faster, more versatile and less costly option than painting, which often requires ventilation, time consuming prep and clean-up processes.
Since durability is essential in the workplace, we've engineered
3M™ Safety Stripe Vinyl Tape 5700
(PDF, 12.71 Kb) to resist most common solvents, acids and alkaline chemicals. For best results avoid exposure to ketones, esters and chlorinated hydrocarbons, and apply to a clean, dry surface at temperatures between 60°F (16°C) to 80°F (27°C).
Bringing Better Ideas to the Surface through Science and Innovation
In our 3M Industrial Adhesives and Tapes Division, we apply the science of adhesion to deliver innovative solutions that improve the design and manufacturing processes of companies around the world. In the end, our technologies help customers like you deliver competitive products to the market faster and more efficiently.