3M™ Fire Barrier Block B258 is a pre-formed foam block designed for easy installation to effectively seal larger openings against smoke, toxic gas and flame. It is simple to use and helps reduce sound transmission.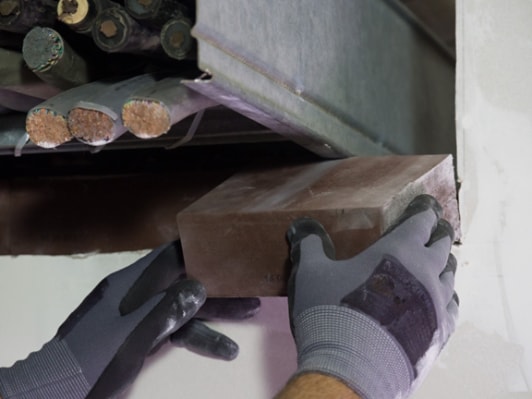 Blocks are fully re-enterable and reusable
A Better Way to Fill Large Gaps
When sealing larger cavities, use
3M™ Fire Barrier Block B258
(PDF, 78 Kb) to restore the integrity of the wall with a simple "stack, seal, and done" application, without the use of special tools. The blocks are engineered to remain securely in place, eliminating traditional wire mesh reinforcements. Pre-formed blocks help technicians
fill large openings quickly
(PDF, 252 Kb). The material is easy to trim on site without special tools, achieving a tight, custom fit. No cure time is required, which means installation is completed faster, and the blocks are paintable with primer for a more seamless appearance.
The blocks are fully re-enterable and reusable, saving time and money, while minimizing waste. Once the opening is filled, seal around the perimeter and any penetrating items with 3M™ Fire Barrier Rated Foam FIP 1-Step or other 3M™ fire barrier sealants (sold separately).
Recommended Applications
Blank openings
Metal pipes
Cables
Cable trays
Insulated pipes, combination penetrations
Fully Tested and Approved
3M™ B258 Fire Barrier Blocks are firestop tested to the criteria of ASTM E 814/UL 1479 Standard Test Method for Fire Tests of Penetration Firestop Systems, ASTM E 84/UL 273 Standard Test Method for Surface Burning Characteristics of Building Materials, ASTM E 90 Standard Test Method for Laboratory Measurement of Airborne Sound Transmission Loss of Building Partitions and Elements, and ASTM E 413 Classification for Rating Sound Insulation.
Reliable and Affordable Fire Protection
Effective and easy to install, 3M™ Fire Barrier Block B258 are part of our family of fire protection products that offer the broadest, long-lasting solutions for a variety of commercial, industrial and residential applications. As a trusted leader in the fire protection industry, 3M offers a broad line of affordable products designed to meet the most demanding firestop requirements. Find the solution you need from the industry-preferred line of fire protection products.