One-part epoxy with stability at room temperature
Low temperature cure and fast cure options
Excellent impact resistance
Ideal for bonding dissimilar materials and electronics-grade plastics
Flexible after cure with 100% elongation
Toughened adhesive for impact resistance: up to 3.1 joules energy absorption
Controlled rheology for precise mechanical application and non-sag bonding
Bonds well to metals and plastics such as glass-filled nylon, PC and ABS
Water-resistant for applications inside products such as wearable devices
3M™ Scotch-Weld™ One-Part Epoxy Adhesive 6101 Off-White is a one-part epoxy exhibiting a low temperature cure or fast high temperature cure with long room temperature pot life. It is flexible and toughened resulting in high impact performance.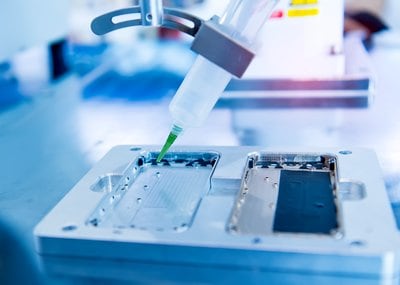 Room-temperature stable one-part epoxy delivers tough, water-resistant bonds, precise mechanical application and a low-heat curing option for heat-sensitive substrates
In addition to production flexibility, 3M™ Scotch-Weld™ One‐Part Epoxy Adhesive 6101 delivers tough, water‐resistant bonds that provide mechanical support and protection to circuits and delicate electronic components. The adhesive remains flexible after cure with 100% elongation and forms strong bonds on a variety of substrates including glass‐filled nylon, PC and ABS in addition to metals. Up to 3.1 joules of energy absorption provide impact resistance that can stand up to bumps, drops and falls.
Recommended Applications
Mobile devices
Electronics assembly
Wearable electronic devices
Bringing Better Ideas to the Surface Through Science and Innovation
In our 3M Industrial Adhesives and Tapes Division, we apply the science of adhesion to deliver innovative solutions that improve the design and manufacturing processes of companies around the world. In the end, our technologies help customers like you deliver competitive products to the market faster and more efficiently.