3M™ Scotch-Weld™ Epoxy Adhesive EC-3542 B/A FR is a two-component, flame retardant epoxy adhesive that cures at room temperature to form impact-resistant structural bonds. It offers a lightweight, fast-curing adhesive for general potting, edge fill and honeycomb panel forming to meet unique manufacturing requirements.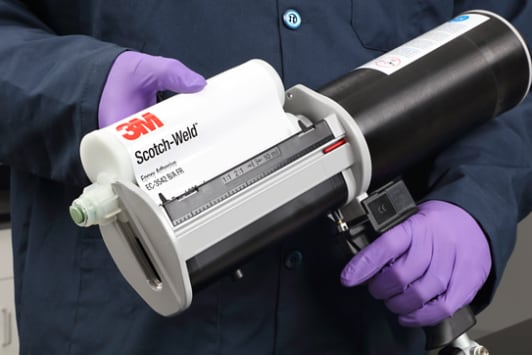 A two-part epoxy potting compound with fast gel and cure time at room temperature
3M™ Scotch-Weld™ Epoxy Adhesive EC-3542 B/A FR is a unique adhesive formulation with low density, high torque strength and fast cure time. Using 3M glass bubble technology, this product is half the weight of traditional structural bonding adhesives for an excellent strength-to-weight ratio. The result: a product that can help substantially reduce weight in aircraft interior structures with a density of <0.7g/cc.
Consistent flow enables fast pumping and application through pneumatic dispensers and automated mixing and dispensing equipment. After application and cure, EC-3542 forms tough, impact-resistant structural bonds. It also offers high torque resistance with high compressive strength, making it ideal for insert potting application.
Epoxy Volume per Insert
Per Aircraft
Legacy product
3M EC-3542
Weight Saving*
4.26 CC
Insert QTY
Density(g/cc)
Weight (g)
Density(g/cc)
Weight (g)
Gram
Ibs.
3000
1.2
15336
0.7
8946
6390
14.1
*This is an estimate based on 0.5" honeycomb panel x 0.5" insert.
Actual numbers may vary
Fast Cure at Room Temperature
In aerospace manufacturing and aircraft maintenance, time is money. This adhesive delivers fast flow for quick application process with minimal prep time. Once applied, 3M™ Scotch-Weld™ Epoxy Adhesive EC-3542 B/A FR cures quickly at room temperature. The non-sag formula can be used in vertical applications without running, dripping or sagging. In addition, the thixotropic formula enables vertical edge close-out and panel forming.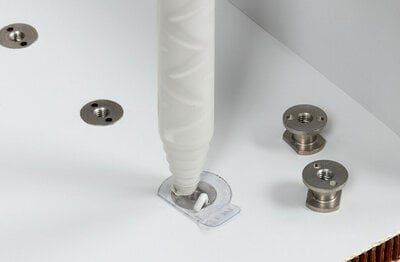 low density formulation with high torque resistance ideal for insert potting
Recommended Applications
3M™ Scotch-Weld™ Epoxy Adhesive EC-3542 B/A FR is designed for honeycomb bonding, insert potting and edge close-out typically found in aircraft interiors such as:
Galley structures
Luggage bins
Partition walls
Lavatory structures
Crew rest compartments
Seating structures
Ceiling panels
Closets
Stowage compartments
Sidewall panels
Cargo bay panels
Bar units
Coatrooms and passenger doors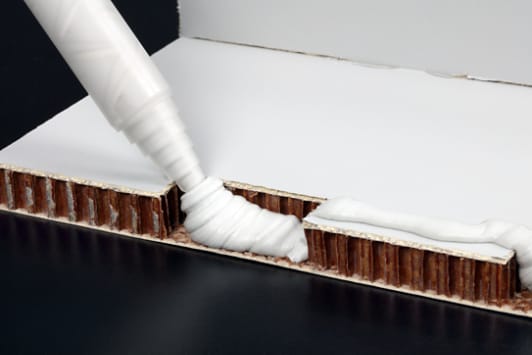 Designed for honeycomb panel forming typically found in aircraft interiors
Our Best for Your Best
3M is proud to partner with organizations across the spectrum of aerospace and related industries. Creating efficiencies, reducing process times and lowering aircraft weight is how we execute our never-ending mission to offer best-in-class adhesives, sealants and other products that effectively reduce costs on multiple fronts. Professionals across the industry know the cost-saving advantages of 3M Aerospace. Our brand is widely recognized for the highest standards of quality and performance and adds value to the final results. By engineering reliability, longevity and performance into all of our products, we have a history of saving money by reducing waste, rework and time.
See more about Interior Adhesive Solutions
(PDF, 14.96 Mb)