Filler restores damaged fiberglass hulls and decks on boats
Short strands of fiberglass reinforce strength of filler
Paste consistency allows application of vertical surfaces
Non-staining and non-shrinking formula
3M™ Cream Hardener included
3M™ Marine High Strength Repair Filler restores damaged areas of fiberglass hulls, decks and other areas on boats. Our filler is a high performance product that is reinforced with short strands of fiberglass for added strength. Boat restoration professionals commonly use this product.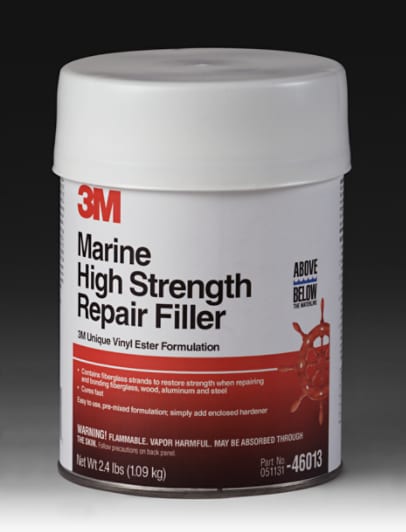 3M™ Marine High Strength Repair Filler, 046013, 1 Quart
A Strong Two-Part Filler for Marine Repair
3M™ Marine High Strength Repair Filler is a uniquely modified vinyl ester structural filler formulated with short strand fiberglass for non-fairing applications. The fiberglass fibers interlock to give our filler additional strength compared to regular fillers. Filler is non-staining, non-shrinking and it comes with 3M™ Marine Creme Hardener.

We recommend this product for filling and covering scratches, dings, rust-outs, blemishes, pinholes and other simple surface defects that otherwise exhibit a true or fair line. Use this filler to level or even out depressions and low spots.

Directions for Use
Before using this product, please reference Product Label and/or Safety Data Sheet for Health and Safety Information:
Must be used when surface, product and shop temperature are above 60 degrees Fahrenheit.
Clean surface free of dust, grease, wax, oil and moisture. Laminate must be dry.
Grind damaged fiberglass using a coarse grade (40 grit) 3M abrasive, and wipe clean with a tack cloth.
Mix 3M™ Marine High Strength Repair Filler thoroughly. Next, apply desired amount of filler on a clean non porous mixing surface. Do not use cardboard.
Add 2 percent 3M™ Marine Creme Hardener (1 1/2 inch strip to a golf ball sized amount of filler). Mix filler and hardener to a uniform color, making sure to break any air bubble that may have been introduced. Mix only what you will use in 15 minutes.
Apply 3M™ Marine High Strength Repair Filler to a clean surface to be repaired. Apply additional filler no thicker than 3/8 inch per layer, building slightly lower


Learn more about minor marine blister repair with 3M products (PDF, 212 Kb)

Learn more about marine gouge repair above the waterline with 3M products (PDF, 303 Kb)

Learn more about small marine hole repair above the waterline with 3M products (PDF, 207 Kb)

Learn more about 2-side frontside marine hole repair with 3M products (PDF, 209 Kb)