Tough, long-lasting nonwoven belt is effective for deburring, blending and cleaning
Offers great edge durability
Higher flexibility resists "chunking" and performs well on belt sanders with small contact wheels
Reinforced low-stretch backing provides aggressive conditioning capability and good flexibility
Provides controlled cut to eliminate gouging and leaves a burr-free finish
Offers the best flexibility in the Scotch-Brite™ Surface Conditioning Belt family
Scotch-Brite™ Durable Flex Belt is engineered to perform tough detail work such as deburring, blending and finishing on a variety of metals. The reinforced, low-stretch backing and superior edge durability aid in supplying an aggressive cutting ability. Conformable, nonwoven Scotch-Brite™ abrasives refine and prep metal surfaces without significantly altering the metal underneath.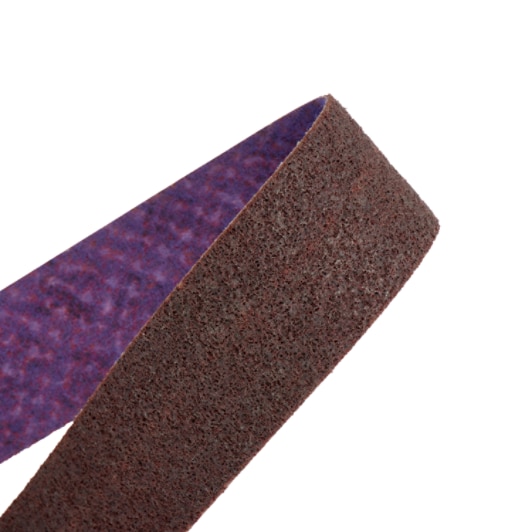 Low-stretch backing offers good flexibility
Improved Durability for Long Life
The nonwoven fiber material runs cool, resists loading, and holds up to edge work, while aluminum oxide abrasives provide effective cutting action that produces consistent finishing performance on stainless steel, aluminum and carbon steel over the life of the belt. All of our Scotch-Brite™ Durable Flex Belts can be distinguished by their purple backing.

Tough Aluminum Oxide Abrasive
This belt uses aluminum oxide abrasive. Aluminum oxide is a popular choice among industrial professionals because of its cut-rate and long life. This mineral is embedded in the nonwoven web, which wears away evenly to continually expose fresh mineral. Due to its high cut-rate, hardness, strength, and low heat retention, aluminum oxide mineral is widely used in grinding applications in addition to sanding and finishing use. Aluminum oxide is suitable on a wide variety of substrates in both woodworking and metalworking, including ferrous alloys.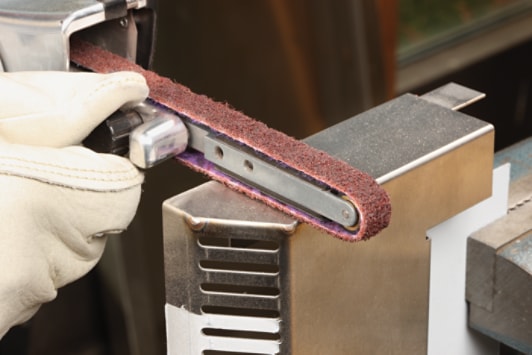 Suitable in backstand and file belt sander applications
Works on Multiple Tools and Machines
Scotch-Brite™ Durable Flex Belts work great on a variety of tools and machines, including file belt tools, inline sanders and backstands.