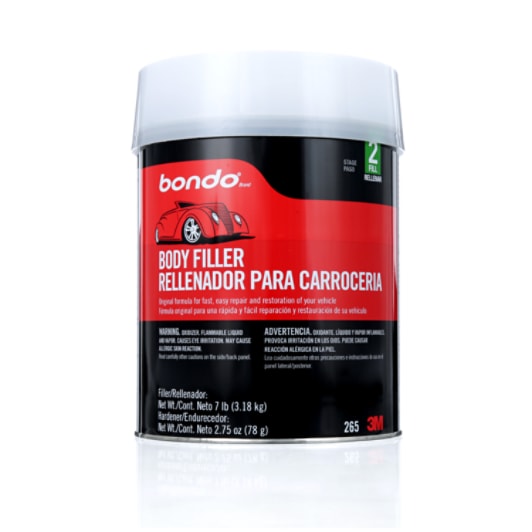 Bondo® Body Filler for fast, easy repair of dents in cars
An American Original
Born from a time when auto body repair involved heat-shrinking metal and pouring lead, our Bondo® Body Filler has been helping vehicle owners and auto body professionals for decades. This simple two-part solution includes a resin-based filler and a hardener. A tube of the hardener is included with Bondo® Body Filler. The consistency of both compounds is creamy, but as the hardener is blended together with the filler it acts as a catalyst, creating a chemical reaction which cures the product. This fast-curing body filler spreads easily and will adhere to correctly prepared surfaces.
Learn more about 3M Automotive Aftermarket products
(PDF, 68.63 Mb)
Bondo® Body Filler shapes in minutes and will accept as many reasonably applied applications as required to fill holes and deep scratches or dents. It is formulated to be non-shrinking and permanently durable. Once it has completely hardened — normally in 25 minutes or less — Bondo® Body Filler can be sanded using various grits to achieve as smooth a finish as required. In addition to its uses in repairs of typical vehicle surfaces, the filler is also suitable for repairing other surfaces including
wood
(PDF, 20.55 Mb), steel, aluminum, fiberglass, and concrete. Bondo® Body Filler products include directions that help you easily create just the right mix for your auto repair job and allow for same-day repairs.
Use During the Fill Stage of the 3M™ Body Repair System
Even a small repair can seem complex at first. So 3M's Body Repair System simplifies the entire automotive body repair process by dividing it into four stages:
Stage 1 — Prepare.
This stage includes pulling dents, removal of paint and rust and efficient, effective masking of the area.
Stage 2 — Fill.
This stage involves patching holes with reinforced filler and smoothing and shaping filler before painting.
Stage 3 — Paint.
This stage includes painting the area and blending and smoothing primer and paint.
Stage 4 — Finish.
The final stage for showroom-grade results: removing small defects, sealing and polishing clear coats and other painted surfaces.
Learn more about 3M Automotive Aftermarket products
(PDF, 325.5 Kb)
3M supplies premium products such as abrasives, tapes,
body fillers
(PDF, 504.4 Kb) and
tools
(PDF, 18.52 Mb) for every stage. This system helps you work easily, efficiently and successfully across the entire body repair process.
Bringing Science to the Art of Auto Body Repair
As a brand of 3M, Bondo® is well known among collision repair professionals and others who are committed to helping restore the beauty and value to your automobiles. Developed in 1955, this original auto body filler formula is another way that 3M applies science to life — and helps you rediscover the excitement of owning and operating like-new vehicles.
View more Bondo® products
(PDF, 812.1 Kb)