Sheet may be shaped to meet project needs and be used with a hand block or inline sander
Available in a range of grades and minerals, so operators can choose the right combination for their application
May be used on a variety of metals for superior versatility
Open web is load resistant, prolonging abrasive service life
Open web is spongy and responsive, minimizing gouging of the workpiece
Scotch-Brite™ High Strength Sheet combines abrasive mineral with springy non-woven nylon fibers to create a unique High Strength material, which is ideally suited to deburring, satin finishing and cleaning.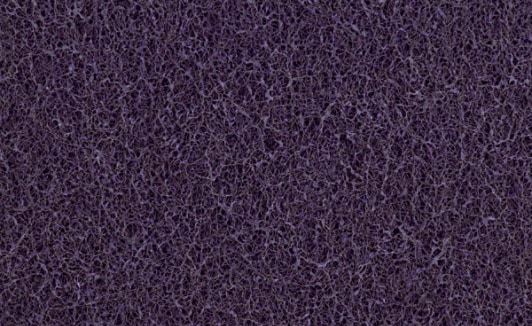 Open web is load resistant, prolonging abrasive service life
Choosing the Right High Strength Sheet
When considering the aggressiveness of different Scotch-Brite™ materials, High Strength falls in the middle to high end of the spectrum.

Four mineral variations of High Strength material exist: A VFN (very fine grade aluminum oxide), S VFN (very fine grade silicon carbide), A FIN (fine grade aluminum oxide) and A MED (medium grade aluminum oxide). Regardless of variation, the mineral is interspersed on non-woven nylon fibers using resin. The resin bond strengthens the abrasive, making it more tough and durable. The type of mineral and grade play an important role in determining the abrasive's aggressiveness. A VFN and S VFN minerals cut less aggressively and leave softer scratch patterns, making them good matches for moderate cleaning and surface finishing. A MED cuts more aggressively and leaves a coarser scratch pattern, making it a good match for heavy cleaning and setting finishes.
Scotch-Brite™ Grade Guide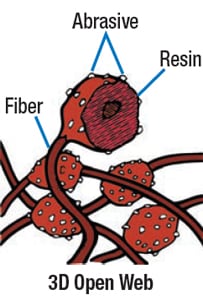 The Many Benefits of Open-Web Abrasives
Non-woven technology makes our Scotch-Brite™ industrial abrasives unique. A combination of fiber strands, resin and abrasive mineral forms a thick, open web. The spring-like nature of the fibers responds to contours and effectively removes unwanted burrs, soils and contaminants while maintaining the geometry of the workpiece, which in turn reduces rework and boosts productivity.

Gaps in the web allow swarf to escape, so debris does not clog the mineral. Fibers in the web continually break down with use to reveal fresh mineral for exceptional consistency, superior cut performance and extremely long service life. From aesthetic finishing to weld blending, deburring and more, Scotch-Brite abrasives work fast and deliver consistent results, part after part.

Discover More 3M™ Products for Metalworking (PDF, 12.96 Mb)