3M™ Microfinishing PSA Film Sheet 268L is a fast-cutting abrasive for precise, uniform, close-tolerance finishes. Aluminum oxide is resin-bonded to a 3 mil, high-strength polyester film backing that provides durability and flexibility for consistent finishing on contoured surfaces. The pressure sensitive adhesive (PSA) backing enables easy attachment to a sanding block. Use wet or dry.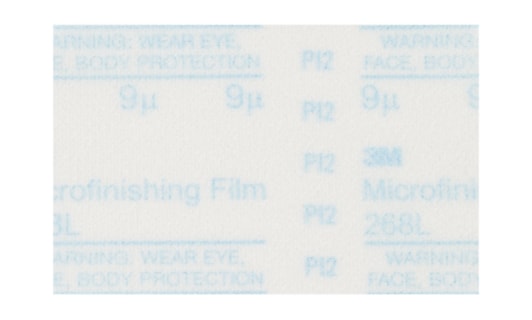 High-strength polyester film backing aluminum oxide resin-bonded to a 3 mil polyester film backing for durability
Achieve Close-Tolerance Finishes
3M™ Microfinishing PSA Film Sheet 268L
(PDF, 65.53 Kb) features precision, micron-graded aluminum oxide, resin-bonded to a high-strength, resilient polyester film backing to produce a fast cut-rate and precise, uniform finish on wood, solid surface composites, plastic, fiberglass, metals and paint preparation. The film backing offers great flexibility without sacrificing the durability and reliable performance of the sheet. To complement the effective abrasive action, the polyester film backing flexes to help achieve a consistent finish over contours and offers greater tear-resistance than comparable paper products, making it ideal for high-production environments.
The Convenience of Pressure Sensitive Adhesive
For greater convenience and productivity, PSA products have a light adhesive backing that attaches to a block or disc pad as easily as a sticker. It removes just as cleanly, leaving an uncontaminated surface for the next sheet.
Fast Cut, Long Life
The 268L film sheet is constructed with aluminum oxide, which is a popular choice among industrial professionals because of its fast cut-rate and long life. This mineral makes a tough, durable abrasive that self-fractures to expose fresh cutting edges. Due to its fast cut-rate, hardness, and strength, it is widely used in sanding and finishing applications. Aluminum oxide is suitable for a wide variety of materials in both
woodworking
(PDF, 6.34 Mb) and metalworking, including ferrous alloys.
Run It Wet or Dry
Coolant generally extends abrasive life, increases cut rate, prevents loading, and reduces air-borne particles. The high-strength, film backing of this product maintains its strength and flexibility even when run wet, while other backing materials might disintegrate.