Nylon strands break down easily for low-pressure applications and/or softer metals
Lofty web is especially resistant to loading on soft and/or oily materials
Non-woven open web construction conditions the surface without altering, warping or discoloring the workpiece
Non-woven material provides superior flexibility for detail work and contours
Reduced loading and heat resistance allow extended operating time and consistent surface conditioning results
Spring-like fibers enable conditioning and finishing in a single step, reducing process time
Smooth, tough, stretch-resistant nylon film backing runs smoothly across platens to help prevent chatter marks
The Scotch-Brite™ PD Surface Conditioning Film-Backed Belt is well-suited for platen operations, stroke sanders, and delicate contact wheels where a scrim backing is causing damage. It is ideal for cleaning and finishing softer metals such as aluminum, copper, and brass, as well as non-ferrous metals, and its thicker construction also achieves a highly uniform finish on stainless steel.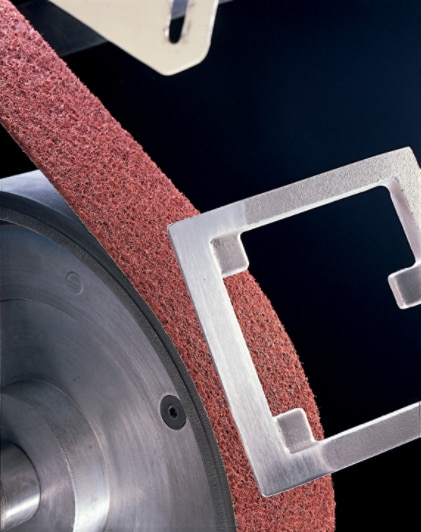 Condition and finish in a single step
Smooth Film Backing Ideal for Platen Operations or Stroke Sanders
We gave this belt a durable, stretch-resistant nylon film backing to help ensure smooth running across a platen and avoid chatter marks on the workpiece. It is also a good choice for stroke sanders or delicate contact wheels where a scrim backing is causing damage.
The Scotch-Brite™ Advantage
Non-woven technology makes our Scotch-Brite™ industrial abrasives unique. A combination of fiber strands, resin, and abrasive mineral forms a thick, open web. The spring-like nature of the fibers responds to contours and effectively removes unwanted burrs, soils and contaminants while maintaining the geometry of the workpiece, which in turn reduces rework and boosts productivity. Gaps in the web allow swarf to escape, so debris does not clog the mineral. Fibers in the web continually break down with use to reveal fresh mineral for exceptional consistency, superior cut performance and extremely long service life. Scotch-Brite products may enhance productivity while reducing the need for cleaning chemicals and wire brushes. From aesthetic finishing to weld blending, deburring and more, Scotch-Brite abrasives work fast and deliver consistent results, part after part.