Good for coarse and intermediate/finish wood sanding
Silicon Carbide mineral for sharp, consistent cutting action and fine finishes
Enhanced anti-static properties reduce airborne dust levels when coupled with an efficient dust collection system
Static resistant treatment reduces loading and offers longer belt life
Available in narrow and wide belt styles
Perhaps one of the best features of our 3M™ SiC Cloth Belt 490FZ is its versatility — it's offered in both narrow and wide flat finishing form, as well as different grades.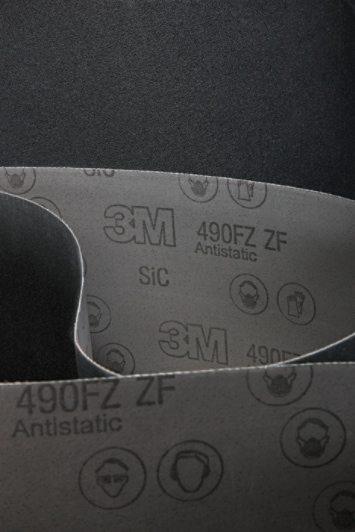 Heavy polyester backing available in both ZF- and YF- weights
Narrowing It Down
Featuring the right blend of mineral, backing and bond, our 3M™ SiC Cloth Belt 490FZ is designed for coarse and intermediate/fine wood sanding operations where good cut rate and finish are required. Wide abrasive belts are used with wide belt sanders to dimension or finish wood panels. The cloth belt is available in two weights: ZF-weight (grades P24 — P50) or YF-weight (grades P60 — P220). Both weights are stiff, sturdy and durable, with ZF being the slightly heavier of the two. These strong backings support the abrasive side of the belt and provide the durability needed for these high horsepower applications. Choose a coarser grade, like P24, when you desire aggressive sanding. Choose a finer grade, like P220, when a fine finish is your top priority.
Essential Ingredients: Silicon Carbide and Load-Resistant Coating
What are the essentials for most primary wood applications? Fine finishes, definitely. But, during sanding, having a load-resistant abrasive can come in handy too. It's no secret that wood generates a lot of dust and debris during sanding. We chose silicon carbide mineral, because it is a hard synthetic mineral that provides excellent finishes when compared to the other types of minerals used in wood sanding. It is one of the best minerals available for wood finishing.
To help the mineral do its job well, we added a static-resistant treatment to the belt. This additive helps the dust collection system funnel dust and debris away from the mineral, so it doesn't get clogged by debris. Additionally, the semi-open coat construction means there are small gaps between the mineral. These tiny channels help prevent the abrasive from loading. The mineral is adhered to the backing with a resin bond that breaks down gradually during sanding. The bond helps with heat resistance and provides the bond strength needed for these high horsepower applications.
Combining Science and Art
Altogether, 3M™ SiC Cloth Belt 490FZ is a great
abrasive belt
(PDF, 6.9 Mb) to have on hand for wood sanding operations that require backing strength and excellent finishes. Crafting the right blend of mineral, backing, bond and coating is science. Applying the right woodworking techniques and processes is an art.