Excellent belt for stroke sanding metals including stainless steel and nickel alloys
X-weight cotton backing withstands aggressive sanding and grinding
Grinding aid helps reduce heat and grinding temperatures
Delivers exceptional finishes on a variety of metal substrates
Ceramic aluminum oxide blend offers excellent cut rate and life for better performance
Our 3M™ Cloth Belt 947D is designed to deliver superior surface finishing on a variety of metals including nickel and stainless steel. Made with a blend of aluminum oxide and ceramic grain, this tough belt cuts quickly and evenly while maintaining a consistently fine finish.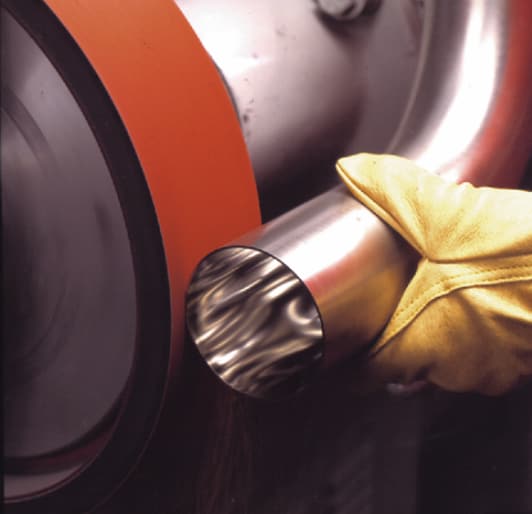 Use these products to generate a directional scratch to prepare stainless steel for final finishing
Durable Abrasive Belt
Our 3M™ Cloth Belt 947D features an anti-friction grinding aid, which helps the abrasive run cool during moderate to high pressure applications. This grinding aid helps to prevent thermal damage to the belt and discoloration of the work piece surface. This attribute, combined with the semi-flexible X-weight backing, make Cloth Belt 947D a good match for projects that require an equally durable and malleable abrasive.
Blended Ceramic Grains
3M™ Cloth Belt 947D is engineered using blended ceramic abrasive, which enhances toughness and hardness of the grain. Ceramic blend products feature aluminum oxide blended with ceramic grain for a harder, longer-lasting abrasive. Perfect for stock removal, ceramic abrasives are engineered to fracture frequently for a super-fast cut and can handle intense heat and stress applications. Ceramic/aluminum oxide blend surpasses aluminum oxide abrasives in cut-rate and durability and makes our 3M™ Cloth Belt 947D an excellent choice for refining, dimensioning, stock removal, scale removal, stroke sanding and weld leveling.