Blue, filament-reinforced tape provides high-tensile strength and resists nicks, abrasion and moisture
Designed for temporary holding applications such as holding appliance parts and other consumer goods together during manufacture and shipping
Adhesive offers clean removal and stain resistance on some finishes
Synthetic rubber adhesive bonds easily to most fiberboard, plastics and metal surfaces
Glass yarn filaments add strength for box closing, bundling and more
Able to withstand rough shipping and handling conditions
Our Scotch® Filament Tape 8916V Clean Removal is specifically designed to hold appliance parts and other consumer goods in place during manufacturing and shipping. Reinforced with continuous glass-yarn filaments, this blue, high-performance tape provides high adhesion to a wide variety of substrates, but removes cleanly and is stain resistant on some finishes.
Temporary holding and attachment applications
The World's Go-To Source for Filament Tapes Since 1946
3M's line of filament-reinforced tapes and strapping tapes are high strength, reliable and affordable solutions that give you product and package integrity. For closing boxes, stabilizing pallets, bundling and reinforcing; securing appliance components during transport and easy-open tear strips, our high strength tapes provide important benefits for manufacturers of piping, metal products, furniture, appliances, automotive parts, sporting goods, as well as food and beverage processors.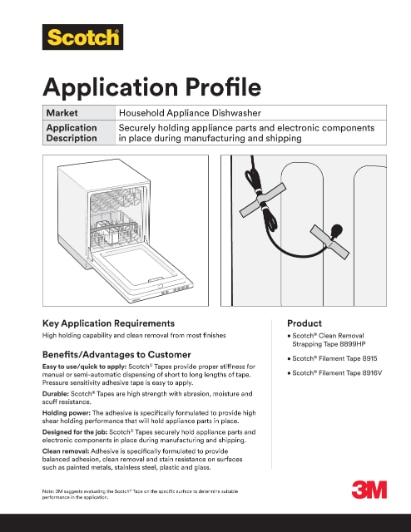 (PDF, 249.21 Kb)