One-part application from an easy dispensing tube
Fast drying – sandable in 30 minutes for greatly increased productivity
Formula retains flexibility with minimal shrinkage
Non-staining to help ensure a consistent paint finish
Dynatron™ Glazing and Spot Putty is easy to use, dries fast and creates a lasting bond, ideal for repairing minor surface imperfections. This 1 part nitrocellulose spot putty applies directly from the tube. It delivers a 3 minute working time and is sandable in 30 minutes, great for shop productivity. It features minimal shrinkage and is non staining to help ensure a consistent finish.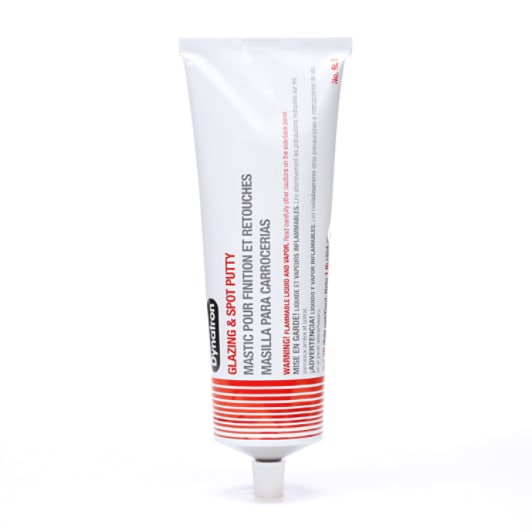 Dynatron™ Glazing & Spot Putty dries quickly with minimal shrinkage
Big Benefits for Smaller Repairs
Applied directly from its 1 lb. easy dispensing tube, Dynatron™ Glazing and Spot Putty is formulated for quality auto body repairs in less time. Its 1 part nitrocellulose formula eliminates mixing and helps to maximize productivity in collision repair shops. Dynatron™ Glazing and Spot Putty is sandable in as little as 30 minutes. It dries hard and shrinks very little over time. It is also non staining, so it won't affect the color of paint or finishes around the repair area. The spot and glazing putty is ideal for spot repairs and other small repairs to auto body panels.
Bringing Science to the Art of Auto Body Repair
As a brand of 3M, Dynatron is well known among collision repair professionals. This easy-to-use, fast-drying and long lasting spot and glazing putty is another way that 3M provides the benefits of science to the art of auto body repair and restoration.
Learn more about Automotive Aftermarket products
(PDF, 69 Mb)