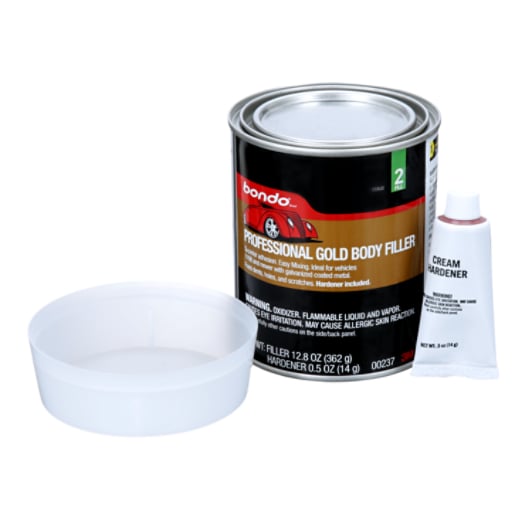 A high quality professional grade body filler made from state of the art polyester resins technology
Professional Technology for Do-It-Yourself Repair
Featuring advanced 3M resin technology, Bondo® Professional Gold Filler is the ideal material for quickly and easily filling low spots, dents and scratches in auto body surfaces before priming and painting.
Bondo® Professional Gold Filler is formulated for a variety of surfaces including aluminum, fiberglass, SMC and epoxy primers. It includes an adhesion promoter which is excellent for the double-coated galvanized steel common on newer vehicles made since 1998.
Fast, Easy and Professional
With the included Red Cream Hardener, the filler is very easy to mix and applies smoothly across a range of vehicle surface imperfections. It provides a working time of just 5 minutes, and the fast-drying formula provides a 20-minute curing time for a perfect balance — enough time to complete the work, yet keep the auto body repair project moving along. Excellent sanding properties make it simple to beautifully match the cured filler with the surrounding surface. This filler is non-shrinking, virtually eliminating the possibility of rework due to changes in the filler after curing.
About the 3M™ Body Repair System
Even a small repair can seem complex at first. So 3M's
Body Repair System
simplifies the entire automotive body repair process by dividing it into four stages:
Stage 1 — Prepare.
This stage includes pulling dents, removal of paint and rust and efficient, effective masking of the area.
Stage 2 — Fill.
This stage involves patching holes with reinforced filler and smoothing and shaping filler before painting.
Stage 3 — Paint.
This stage includes painting the area and blending and smoothing primer and paint.
Stage 4 — Finish.
The final stage for showroom-grade results: removing small defects, sealing and polishing clear coats and other painted surfaces.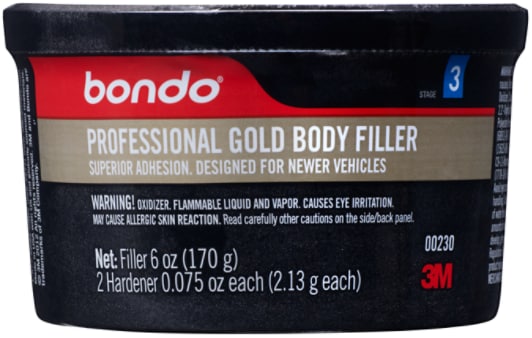 Cures in as little as 20 minutes for fast repairs
3M supplies
premium products
(PDF, 68.63 Mb) such as abrasives, tapes, body fillers and tools for every stage. This system helps you work easily, efficiently and successfully across the entire body repair process.
Bringing Science to the Art of Auto Body Repair
As a brand of 3M,
Bondo®
is well known among collision repair professionals and others who are committed to helping restore the beauty and value to your automobiles. This auto body filler is another way that 3M applies science to life — and helps you rediscover the excitement of owning and operating like-new vehicles.