Two-component, resin rich filler for high building, increasing repair strength
Versatile formula adheres to most automotive substrates
Milled fiberglass in filler adds reinforcing strength
Dual cartridge system designed for use with the 3M™ Dynamic Mixing System
System mixes hardener and filler to a perfect ratio every time
3M™ Reinforced Filler for DMS is a two-component, resin-rich filler that offers easier mixing and dispensing through the 3M™ Dynamic Mixing System. The system efficiently mixes the filler and hardener so that it is ready to use immediately upon being dispensed, saving automotive technicians time and effort by eliminating hand mixing.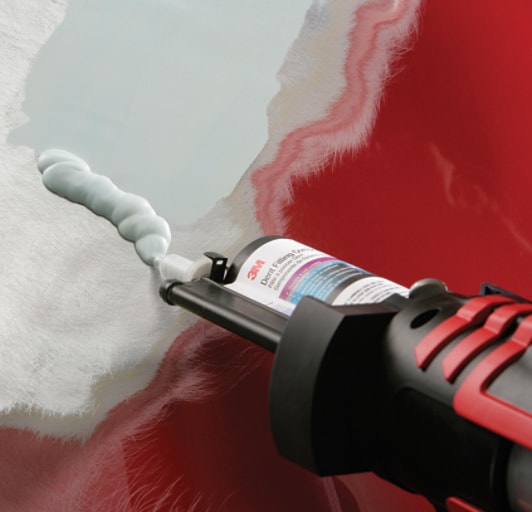 3M's enhanced cartridge design delivers the perfect ratio of mixed product to the car's surface
Excellent Adhesion on Most Automotive Substrates
Our 3M™ Reinforced Filler for DMS contains milled fiberglass and is packaged in a dual cartridge system. Our reinforced filler offers excellent adhesion to steel, galvanized steel, aluminum, E-coat, sheet molded compound (SMC) and fiberglass (FRP). It provides additional strength when deeper fill and gap spanning capability are needed. This filler is ideal for weld seams, sheet molded compound repair and fiberglass repair.
A Convenient Way to Mix Hardener and Filler
3M™ Reinforced Filler for DMS streamlines the process of mixing filler and hardener. Instead of manually mixing filler and hardener on a board with a spreader, the 3M™ Dynamic Mixing System delivers a perfect ratio of hardener and filler. The filler may be applied to the vehicle straight from the
dispenser
with the simple touch of a trigger on the
3M™ Dynamic Mixing System applicator
. For the typical auto body shop, this system maximizes productivity and efficiency.
Learn More about the 3M™ Auto Body Repair Dynamic Mixing System
(PDF, 3.3 Mb)