Ideal for auto body shops – originally developed to preserve integrity of 3M™ polishes
Fluorinated to reduce permeation, discoloration and paneling
Easy "ketchup bottle" style squeeze dispensation
Convenient 12-ounce size is easy to hold and use
Safe, long-lasting and cost-effective squeeze bottle for auto shop polishes and compounds
We developed our 3M™ Detailing Squeeze Bottle for efficiently storing and dispensing auto body polishes, compounds, glazes, liquid wax and solvents. Fluorinated high density polyethylene construction resists paneling and helps preserve the integrity of common auto shop compounds. Squeeze bottle includes a removable spout top for easy dispensation and a cap to prevent spillage.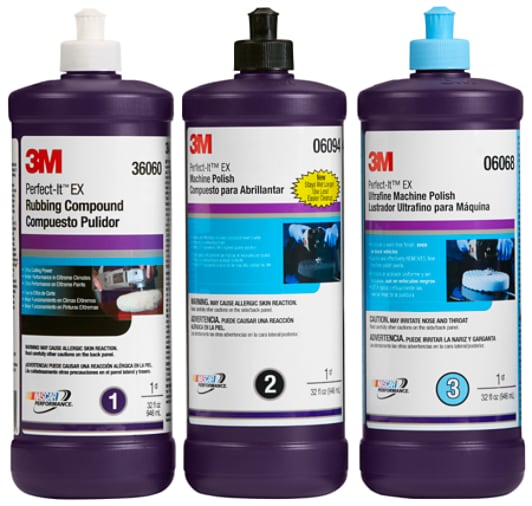 3M EX Detailing Products (sold separately)
Preserve the Quality of Detailing Compounds
Originally developed to help dispense and preserve the integrity of 3M™ polishes, our 3M™ Detailing Squeeze Bottle is ideal for auto body repair specialists to cost-effectively store and dispense a variety of compounds. Suitable for materials commonly used in auto body repair and maintenance such as polishes, glazes and liquid wax, the bottle is made from high density polyethylene which is fluorinated to a Fluoro-Seal Level 3 or a NAMPAC "Ultra High Level" or equivalent. This material resists paneling and chemical permeation, prevents the loss of compound weight and resists the absorption of color or odor, allowing technicians to store polishes and compounds in the bottle and keep them conveniently on hand.
Made for Easy Dispensing of Compounds
At the same time the Detailing Squeeze Bottle is flexible and allows for easy dispensation of product with a simple squeeze. A spout top twists off for easy refills. A red cap keeps contaminants away from compounds and prevents spillage.