3M™ Dent Finishing Glaze is a 2-part polyester glaze with excellent flowability, ideal for filling minor imperfections in sheet metal and as a "skin coat" over body fillers. This self-leveling formula creates a smooth "skin" coating over pinholes, sand scratches and low areas. Dent finishing glaze is part of the 3M™ Dynamic Mixing System.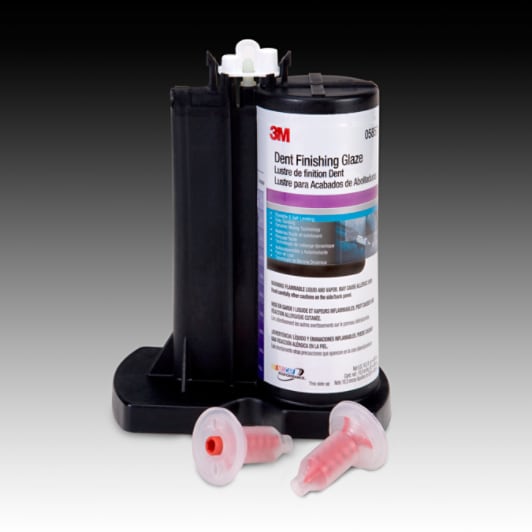 Two-component glaze applies quickly and smoothly from a single cartridge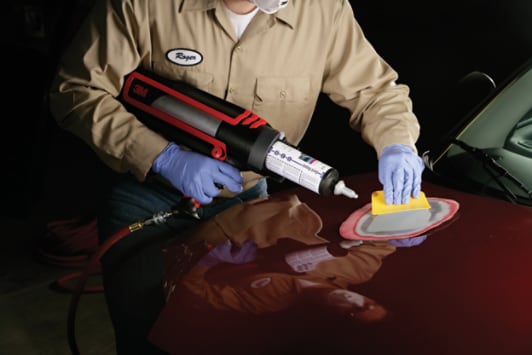 3M™ Dynamic Mixing System mixes two-component product to a perfect consistency
A Thin, Smooth Coating for Minor Imperfections
With a polyester base and a flowable, self-leveling formula, our 3M™ Dent Finishing Glaze for DMS combines strength, smoothness and versatility for specific finishing jobs in collision repair. Ideal for horizontal surfaces, this coating is designed to form a "skin" coat over sheet metal and body fillers to fill pinholes, sand scratches, low areas and other minor imperfections. It is suitable for use with nearly any automotive surface including steel, aluminum, SMC, fiberglass and cured automotive paint. This
two-component glaze
(PDF, 29.27 Kb) applies quickly and smoothly from a single cartridge, eliminating the time and guesswork needed for mixing and greatly reducing cleanup.
Part of Our 3M™ Dynamic Mixing System
3M™ Dent Finishing Glaze is part of our
3M™ Dynamic Mixing System
(PDF, 2.13 Mb) of adhesives, sealers, fillers, compounds and related tools and accessories. This comprehensive solution is designed for maximum savings in shop time and materials.
Using our 3M™ Dynamic Mixing System is as easy as 1) Twist, 2) Mix and 3) Fix. Here is how it works:
Twist a cartridge into place on the applicator until it locks into place.
Mix the 2-part component product automatically by simply pulling the trigger on the applicator. Add a mixing nozzle and watch as it precisely mixes and dispenses a perfect ratio of product, eliminating guesswork.
Fix, bond or seal instantly by applying the product directly from the applicator to the surface and spread into place.
Advanced Technology Streamlines the Auto Body Repair Process
3M uses science and technology to help automotive body technicians work smarter with less effort. With the Dynamic Mixing System, you dispense fillers, glazes, adhesives, sealers and plastic repair products when and where you want them, at the touch of a trigger.