Self-leveling formula is excellent for skim coating and offers good vertical hang
Easy-sanding properties allows sanding in as few as 15 minutes
Strong adhesion properties work with galvanized steel, E-coat, metal, aluminum, fiberglass, SMC, OEM paints, cured epoxy and urethane primers
Stain and tack free properties
Formulated to be pinhole free
3M™ Platinum Plus Glaze is two-part premium selfleveling finishing glaze that can repair minor imperfections on properly prepared substrates such as galvanized steel, steel, aluminum, fiberglass, wood, SMC, E-coat, OEM topcoats, cured/sanded epoxy and urethane primers. This finishing glaze cuts the sanding time to as little as 15 minutes.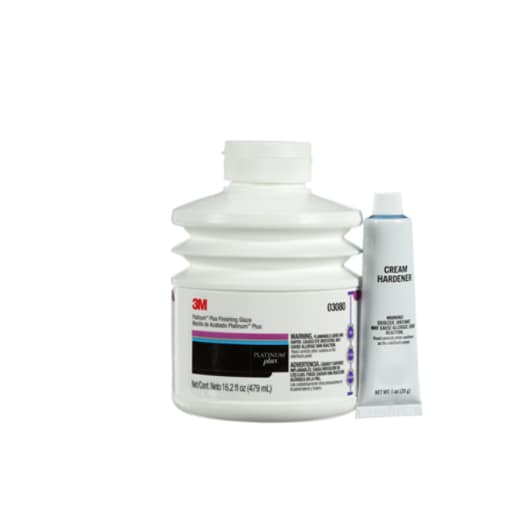 Two-part glaze works on a range of automotive surfaces
Make Your Car Look New Again by Covering Minor Blemishes
3M™ Platinum Plus Glaze can repair minor imperfections such as scratches, pinholes and door dings. This polyester finishing glaze can be used as a finish coat over body filler to fill pinholes and low filled areas. It may be applied on properly prepared steel, aluminum, galvanized, SMC, fiberglass and OEM paint surfaces. 3M™ Platinum Plus Glaze may also be used for industrial and architectural surfaces needing minor surface repairs.