3M™ General Purpose Masking Tape 234 features a strong backing and a less aggressive adhesive. It is one of 3M's most popular general purpose crepe backed masking tapes and performs exceptionally well in most indoor applications, having proven itself especially useful in window and door manufacturing.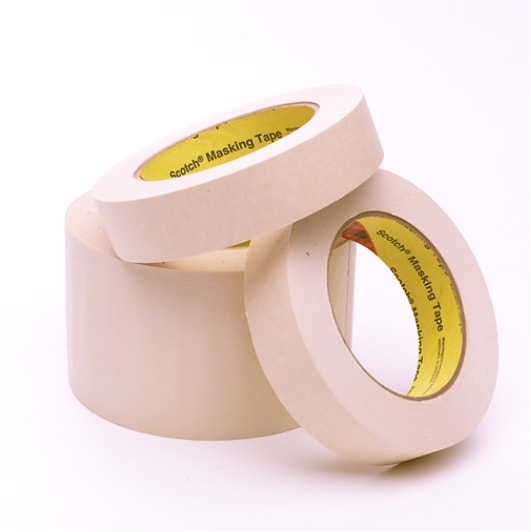 Rubber adhesive features smooth crepe paper backing treated with a heat and solvent resistant saturant
Reliable Performance
Our 3M™ General Purpose Masking Tape 234 is a multipurpose, crepe-backed masking tape that performs well in both general painting and paint bake operations at temperatures up to 250°F/ 121°C for up to 30 minutes. It also features enough tensile strength to be of use in many holding, protecting and bundling applications. A controlled unwind ensures the tape dispenses evenly from the roll, making it less like to tear prematurely. It is advised that the tape not be subjected to outdoor exposure or prolonged periods of sunlight as it may become difficult to remove. This durable tape can be certified for ASTM D-6123.
Recommended Applications
Non-critical paint masking
Medium temperature paint bake operations
Holding, protecting or bundling applications
General labeling
Light to medium duty attachment
General indoor use
Simple Science, Amazing Results
The crepe paper backing tears easily, offers moderate conformability around corners and over irregular surfaces while the rubber adhesive sticks instantly and offers strong holding power that resists lifting and curling, while removing cleanly and easily from the surface. This tape bonds well to paper, metal, wood, and painted surfaces with reliable holding power. Under normal operating conditions 3M™ General Purpose Masking Tape 234 features one piece removal and is sliver resistant.
Why Masking Tape?
Masking tape was developed specifically to help protect surrounding surfaces from overspray, provide clean paint lines, and remove easily and cleanly when finished. Our masking tapes adhere well, resist solvents or water from the paint and are strong enough to hang plastic sheeting, yet remove cleanly without damaging the subsurface. The backing, typically crepe paper, hand tears easily and sticks when applied to curved and irregular surfaces without lifting or curling. Various masking tapes are designed for different applications and should be removed within their specified time range. A very thin or poorly manufactured tape may splinter or shred when coming off the roll or being removed after use. A roll of masking tape is a basic toolbox or supply room item in any construction, warehousing, military, marine, shipping, or retail industry.