Multi-layered polyethylene construction for easy removal of layers after painting or priming
Individually tabbed and numbered sheets remove quickly and easily, exposing a clean sheet ready for immediate use
Acrylic adhesive for no adhesive transfer and easy clean-up after final layer is removed
Multi-sheet allows for multiple uses with quick changeover
3M™ Clean-View Pad 5850 is designed to protect surfaces, including paint booth windows and light fixtures, from dirt and other contaminates such as paint over-spray. When the top layer is contaminated with over-spray, the tabbed corner allows for easy removal, exposing the next layer for use.
Spray booth windows
Light fixtures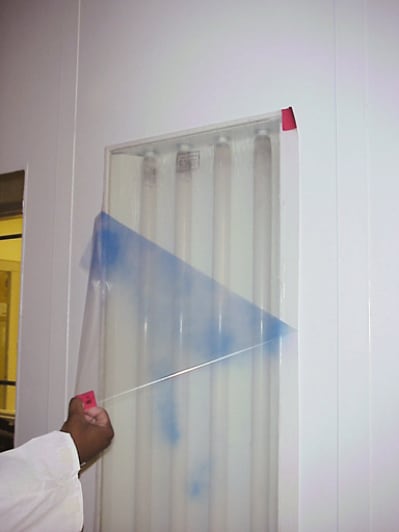 Removes quickly and easily
3M™ Clean-View Pad 5850 is the clear choice for protecting windows and light fixtures, allowing over 85% light transmission through the full 20 sheet pad. Wherever paint booth operations must proceed without compromising productivity or quality, this innovative form of protection gives you a logical, cost-effective alternative. Use it when painting aircraft, cars, trucks, boats, recreational vehicles, industrial vehicles and equipment.
Bringing Better Ideas to the Surface through Science and Innovation
The 3M Industrial Adhesives and Tapes Division applies the science of adhesion to deliver innovative solutions that improve the design and manufacturing processes of companies around the world. In the end, 3M technologies help customers like you deliver competitive products to the market faster and more efficiently.