Silicone backing provides traction for material passing over rollers commonly used in printing processes
Fiberglass reinforcing provides a durable and conformable product for wrapping applications
Adhesive removes cleanly and easily, leaving behind minimal residue and ensuring a quick clean-up process
Provides non-stick surface when used on rollers in manufacturing processes
Silicone adhesive provides long aging, good holding power, for a wide range of operations
Designed for used on web rollers, 3M™ Traction Tape 5401 provides a high coefficient of friction for tracking and tension of web material from start-up through wind-up. In addition, this tape provides a non-stick surface with easy release properties that won't interfere with printing, converting or other web processes.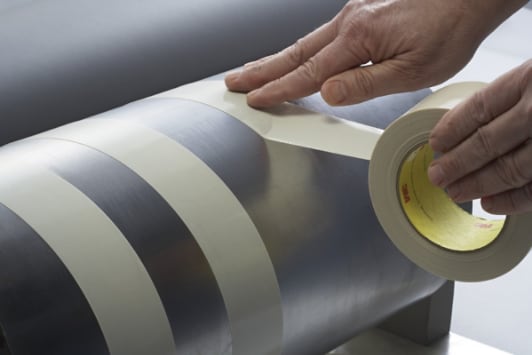 Provide traction for printing, converting and web processes
Provide Traction Over Rollers
Constructed from a tan glass cloth reinforced backing and coated with a pressure-sensitive silicone adhesive, our
3M™ Traction Tape 5401
(PDF, 38 Kb) is an ideal choice for traction applications common in printing processes, such as flexo-printing. This tape helps provide traction for material passing over rollers, while also providing a non-stick surface. The long-lasting, silicone adhesive adheres well to most surfaces and removes cleanly with minimal clean-up. 3M™ Traction Tape 5401 performs in temperatures up to 300°F, allowing it to be used in high-temperature applications.
Recommended Applications
Wrapping rollers for printing, converting and web processes