PROFESSIONAL-GRADE ADHESIVE: Formulated to bond multi-material assemblies such as low surface energy (LSE) plastics, thermoplastics, composites, and metals
RECOMMENDED APPLICATIONS: Joins plastics to metals in applications across electronics, transportation, and construction industries
LONG-LASTING AND DURABLE: Withstands the impact of humidity, water, corrosion, and a variety of chemicals
EXTREMELY STRONG: This formula can replace mechanical fasteners, screws, rivets, and spot welds in many applications
LESS PREP TIME: Creates a strong bond on low surface energy (LSE) plastics, such as polyolefin, with minimal-to-no surface preparation required
CONTROLLED FLOW: Medium viscosity helps minimize running, dripping, and migration
FAST HANDLING AND CURE TIME: After 8 minutes of working time, it reaches handling strength in approximately 1 hour and is fully cured in 24 hours at 73° F (23° C)
3M™ Scotch-Weld™ Structural Plastic Adhesive DP8010 Blue is a two-part acrylic adhesive specially formulated to bond many low surface energy plastics, including many grades of polypropylene, polyethylene, and thermoplastic elastomers (TPEs) without special surface preparation.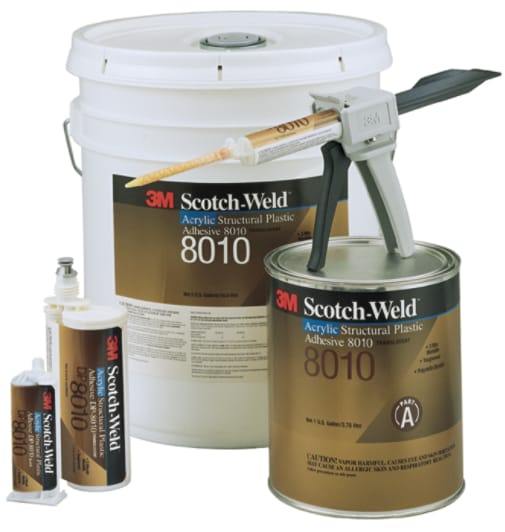 Available in a range of sizes to meet application requirements
When using a Duo-Pak (DP) size adhesive, rely on 3M dispensing equipment for convenient and accurate metering, mixing and dispensing.

Creates a Strong Bond on Low Surface Energy Plastics
Structural bonds can be achieved without special surface treatments such as chemical etching, plasma, flame, or corona treatment or priming. Simply wipe the surfaces with isopropanol to remove mold release agents, dust dirt, etc. 3M™ Scotch-Weld™ Structural Plastic Adhesive DP8010 Blue also bonds metals, ceramics, and wood and most other plastics. It is slightly flexible when cured. We also formulate this adhesive with 8 mil spacer beads for bond line spacing.

Recommended Applications
Joining plastics to metals, such as in the manufacture or repair of appliances
Bonding low surface energy plastics without priming
Impact resistance composite bonding
Manufacture or repair of various sporting goods equipment
Low surface energy plastics such as polypropylene, polyethylene and thermoplastic elastomers (TPEs)
Our 3M™ Scotch-Weld™ Acrylic Adhesive DP8010 starts with medium viscosity for controlled dispensing and spreads to sufficiently wet out the surface. The mix ratio is 10:1 and provides a 10 minute work life. The adhesive reaches handling strength in approximately 1 hour and is fully cured in 8-24 hours (at 72° F /22° C).

Easy Adhesion with Acrylic
Acrylic adhesives are two-part adhesives that provide excellent bond strength and durability. Often referred to as epoxy adhesives or epoxy glue, acrylics actually belong to a separate chemical family with their own unique characteristics. This very unique adhesive bonds LSE plastics without priming or other surface treatments.