Pad has fine mineral for very light cleaning
Use with liquid detergents for wax mold deflashing, highlighting and top coat rubbing of wood, cleaning of porcelain, stainless steel, chrome, painted surfaces and glass
Aluminum oxide mineral cuts fast to alleviate the level of manual pressure needed for an effective cut
Nylon fibers replace steel wool, so abrasive won't rust and lasts longer
Perforation allows for pad to easily tear into two convenient 4-1/2 inch x 6 inch pads
A Very Fine Finish (VFN) performs similarly to wool grade 0 without the splintering
Our Scotch-Brite™ Paint Prep Scuff Hand Pad gives you a fast, consistent scuff for everyday surface preparation. It is ideal for cleaning parts and scuffing prior to staining and painting.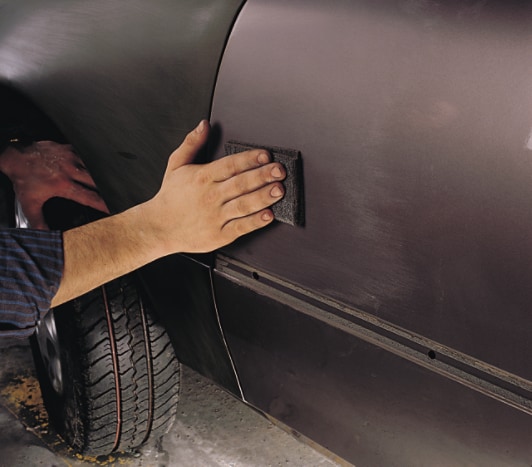 Good Steel Wool Alternative
Our Scotch-Brite™ Paint Prep Scuff Hand Pad combines very fine particles of aluminum oxide mineral and nylon fibers with cured resin. It's an excellent choice for projects that require pre-paint scuffing, finishing, contour finishing, blending and cleaning, because, like steel wool, it provides an aggressive cut and a clean finish without the rusting or splintering. Like an anti-aging stimulus, nylon fibers withstand repeated wear and contribute to the abrasive's longevity, possibly minimizing operating costs by reducing the need for replacements. Additionally, nylon fibers break down softly as compared to steel wool, which may spray wire filaments during sanding. With nylon fibers, the risk for injury or discomfort is reduced. As the nylon fibers break down during sanding, fresh mineral is exposed to ensure a consistent cut and a uniform scratch pattern, so paint or stain will evenly adhere to the surface.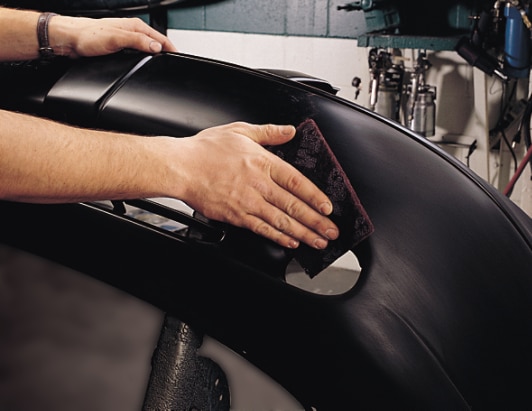 Tailored to Fit
This pad may be used with a polishing compound to enhance the finish. One box of Scotch-Brite™ Paint Prep Scuff Hand Pads includes twenty 6 inch by 9 inch pads that are perforated and may easily be split into two 4-1/2 inch by 6 inch pads. In this way, the pad can be tailored to fit various surface areas, depending on the project. The pad conforms to irregular surfaces and gets into corners without sacrificing performance. Its versatility means it may be used in a way that's best suited to operator needs. Use our Paint Prep Scuff Hand Pad by hand, with a hand pad block or an in-line sander.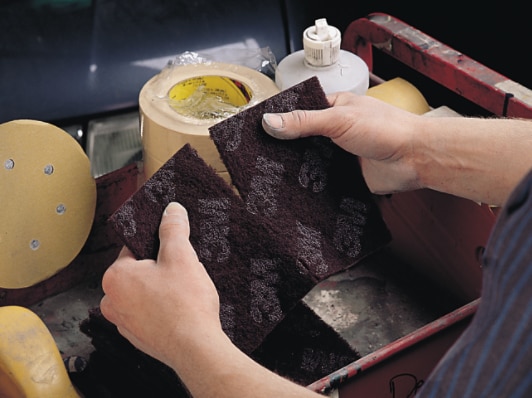 The Many Benefits of Open Web Abrasives
Nonwoven technology makes our Scotch-Brite™ industrial abrasives unique. A combination of fiber strands, resin, and abrasive mineral forms a thick, open web. The spring-like nature of the fibers responds to contours and effectively removes unwanted burrs, soils, and contaminants while maintaining the geometry of the workpiece, which in turn reduces rework and boosts productivity. Gaps in the web allow swarf to escape, so debris does not clog the mineral. Fibers in the web continually break down with use to reveal fresh mineral for exceptional consistency, superior cut performance, and extremely long service life. Scotch-Brite products not only enhance productivity, but also increase operator safety by reducing the need for cleaning chemicals and pastes, and replacing wire brushes that can break off and cause injury. From aesthetic finishing to weld blending, deburring, and more, Scotch-Brite abrasives work fast and deliver consistent results, part after part.