Ideal for flat surface finishing and sealer sanding with access to tight corners
Precision-balanced steel workings and a powerful motor provide high performance with less vibration
Extended curved wrist support, 3M™ Gripping Material, and recessed lever provide maximum comfort and control during prolonged use
Aluminum body and durable composite cover reduce cracked housings and downtime
Our line of 3M™ Elite Orbital Sanders deliver professional performance for flat finishing and sealer sanding operations, hour after hour in high-production industrial environments. Options available in non-vacuum, central vacuum and self-generated vacuum models.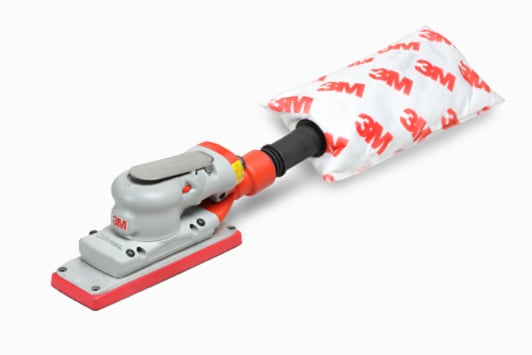 Premier comfort combined with long-lasting performance
Our 3M™ Elite Orbital Sanders are best-in-class tools designed to optimize the performance of 3M™ abrasives. Built with powerful, precision-balanced motors and durable lightweight aluminum housings, our ergonomically designed workhorses stand up to industrial production and reduce user fatigue for hours of comfortable operation.
High Performance, Superior Ergonomics
Designed with the operator in mind, 3M™ Elite Orbital Sanders are loaded with ergonomic features that decrease work strain and improve productivity.
Wrist and hand support:
Extended curved wrist rest reduces stress on hand and wrist and provides additional leverage
Recessed lever platform eliminates pinch and pressure points on the operator's palm
Three grip sizes enable operator preference. The grip diameter on the tool is 2-3/4" with two additional grip sizes available (diameters of 2-1/2" and 3" sold separately)
Reduced vibration:
The rubber grip absorbs and reduces vibration and features 3M™ Gripping Material for a stronger grip and more control with less effort
Durable composite cover extends to the base to absorb vibration and keeps tools in service by preventing cracked housings
Enhanced safety features:
Internal muffler protects operator hearing and will not break off
Convenient thumb-controlled speed dial reduces inadvertent speed changes