Strong, high tack tape proven excellent for use with textiles
Thick, heavy backing can be torn by hand, yet is suitable for machine dispensing
Natural rubber adhesive offers excellent tack and holding power
Resistant to moisture and temperatures as high as 300°F/149°C for 30 minutes
Available in white
3M™ Textile Flatback Tape 2526 is a high-performance, general purpose tape ideal for rolling and bundling textiles, as well as packaging applications where high adhesion is necessary. This thick, heavy tape features a strong, smooth backing capable of resisting moisture and high temperatures, as well as an aggressive adhesive, and can be torn by hand. It is white in color.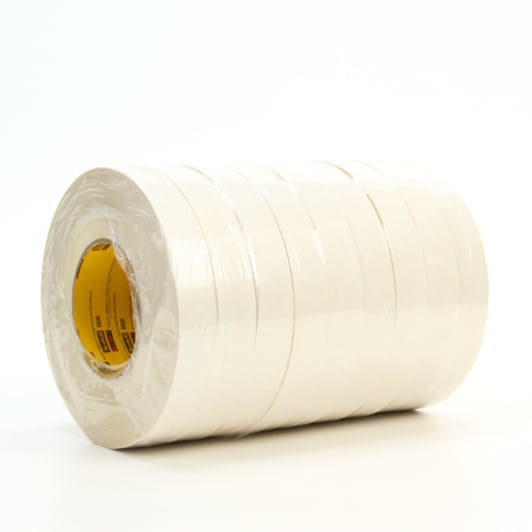 Available in white, this thick tape is among the best for bundling
A Tape That Handles Heavy Textiles
3M™ Textile Flatback Tape 2526 was designed specifically to be a thick, strong tape capable of meeting the everyday demands of bundling textiles. This smooth flatback tape features a smooth paper backing combined with a high-tack, aggressive natural rubber adhesive. It is capable of withstanding temperatures as high as 300°F/149°C for 30 minutes. This tape also provides moisture resistance, but should not be used for outdoor applications or exposed to sunlight for prolonged periods of time.
Recommended Applications
Rolling and bundling textiles
Bundling heavy items with hard-to-stick-to surfaces
The Benefit of Flatback Tape
In high-volume industries, where the speed and efficiency of applications play a major role, 3M has designed a series of flatback tapes whose combination of smooth paper backing and controlled unwind provide optimal performance for large-scale jobs. Desired results such as simplified roll starting and roll closure, temperature and moisture resistance, as well as easy handling, make 3M's flatback tapes the go-to solution for operations worldwide.