Standard Abrasives™ Deburring Wheel binds open web, containing abrasive grain and resin, to a fiberglass core. Strong and dense, the wheel provides an excellent starting point for medium to heavy precision deburring, blending and polishing.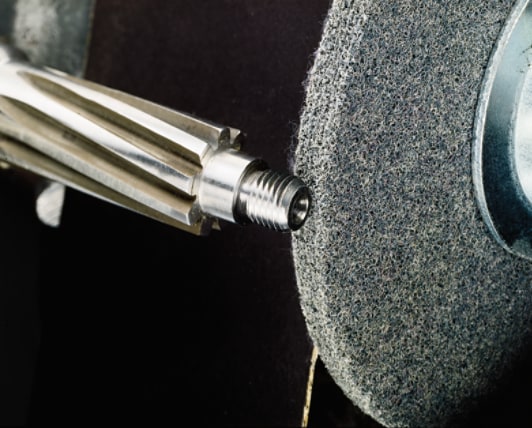 Deburring wheels will not break edges or remove metal
Recommended Applications
Standard Abrasives™ Deburring Wheel is a convolute wheel designed to remove medium and heavy burrs on a variety of substrates. Consider aluminum die cast flashing and various molds, which are often cast with close tolerances. The deburring wheel is hard and dense, so it can swiftly remove tiny, stubborn burrs on these precisely-shaped parts and stand up to edges. Yet, because the wheel has open web, it is flexible enough to respond to surface irregularities and still maintain part geometry. Now, removing medium to heavy burrs and parting lines from castings and forgings, and smoothing radii on stamped/formed metal parts becomes swift and efficient. The deburring wheel works tough without sacrificing the care and precision that is required for these applications.

Great Polishes and Blends
Offered in medium to hard densities and fine grade mineral, the Standard Abrasives™ Deburring Wheel balances strength with finesse. The wheel is filled with fine silicon carbide, which is a very sharp synthetic mineral commonly used for low-pressure applications. While it breaks down faster than aluminum oxide, silicon carbide produces a finer finish and cuts aggressively. As a result, the wheel is well equipped to polish workpieces, like welds and small casted parts, prior to coatings. It may also be good for blending and polishing marks and blemishes that result from handling marks on workpieces.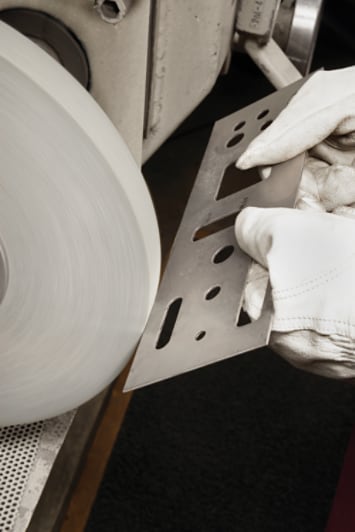 An excellent starting point for medium to heavy precision deburring, blending and polishing, especially where seams and welds require smoothing
Tips for Optimal Use
As a convolute wheel, the Standard Abrasives™ Deburring Wheel should run at recommended operating speeds, using low to medium pressure, and in the direction of the arrow imprinted on the wheel. Following these recommended measures will help to ensure operator safety and optimal performance of the wheel. Using lubricants may also help wash away unwanted swarf and debris and keep the abrasive running cool. The wheel may be used on straight shaft stationary and portable tools, feed-through machines and automated equipment. The versatile range of tools that the wheel may be used with gives operators an added level of flexibility and convenience, as they may manipulate the wheel to meet their unique project needs.

The open web on Standard Abrasives™ Deburring Wheel combines nonwoven fibers and silicon carbide mineral with resin. As the wheel abrades the surface, the fibers break down to expose fresh, sharp mineral for a consistent cut. Moreover, gaps between the fibers allow swarf to escape, so the web resists clogging with debris, prolonging abrasive service life. The web is conformable, resilient and responsive, so as not to gouge or mar the substrate. The Standard Abrasives™ Deburring Wheel delivers a sharp cut and consistent finish - part after part.