Scotch-Brite™ Hookit™ Cut and Polish Disc produces a fine, polished finish on a variety of metals. Combining aluminum oxide mineral with open web, it cuts aggressively while leaving a soft finish, making it a good match for blending and finishing applications.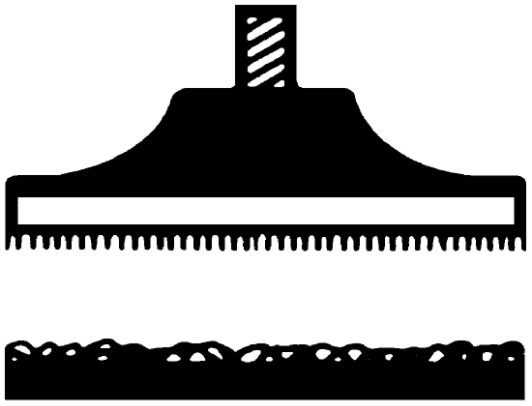 Hook and Loop attachment makes for easy change out of discs
Cut and Polish
Our Scotch-Brite™ Hookit™ Cut and Polish Disc combines aluminum oxide mineral with nonwoven nylon fibers using resin. Aluminum oxide mineral is a popular choice among industrial professionals because of its fast cut rate and long life, dulling less quickly than natural minerals. It effectively cuts and polishes the substrate without significantly altering the geometry of the part.
Easy Tool Attachment
Scotch-Brite™ Hookit™ Cut and Polish Disc features a Hook and Loop attachment system. The loops on the back of the disc enable users to easily fasten the abrasive to the holder pad (sold separately). Applying manual pressure, the loops on the disc adhere to hooks on the holder pad, making for swift and easy disc attachment. A hook-and-loop attachment provides an added level of buoyancy and cushion, helping to prevent the abrasive from gouging the workpiece. This disc is designed to be used on a random orbital sander.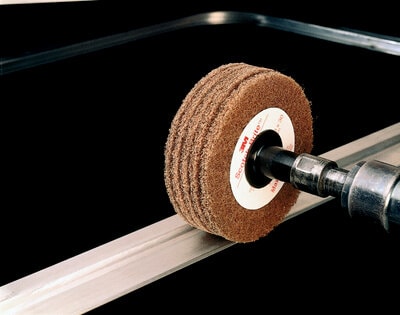 Produce satin or high-luster finishes
The Many Benefits of Open Web Abrasives
Nonwoven technology makes our Scotch-Brite™ industrial abrasives unique. A combination of fiber strands, resin, and abrasive mineral forms a thick, open web. The spring-like nature of the fibers responds to contours and effectively removes unwanted burrs, soils, and contaminants while maintaining the geometry of the workpiece, which in turn reduces rework and boosts productivity. Gaps in the web allow swarf to escape, so debris does not clog the mineral. Fibers in the web continually break down with use to reveal fresh mineral for exceptional consistency, superior cut performance, and extremely long service life. Scotch-Brite products not only enhance productivity, but also increase operator safety. From aesthetic finishing to weld blending, deburring, and more, Scotch-Brite abrasives work fast and deliver consistent results, part after part.